SIGN UP NOW FOR FREE


Discover Forex, Stocks and Crypto trading signals with 79% to 89% accuracy
If you want to receive trading signals - like these in real time - register on the platform and buy the Pro version of LargeTrader.
Alphabet Inc (GOOGLE) Class A- GOOGL trading signal.
US Stock Price Signals and Analysis
Good Morning Traders,
With the close of December 15, Lift-Off offers a SHORT trading signal on the US stock Alphabet Inc (Ticker: GOOGL) listed on NASDAQ and part of the S&P500 index.
The stock closed at 90.86USD per share, marking -4.43%.
After the 50 bps interest rate hike by the FED, as expected. the market fell back down in an overbearing manner, generating on Google 2 signals from Lift-Off
Below chart of Alphabet Inc - GOOGL- with the signal detected by Lift-Off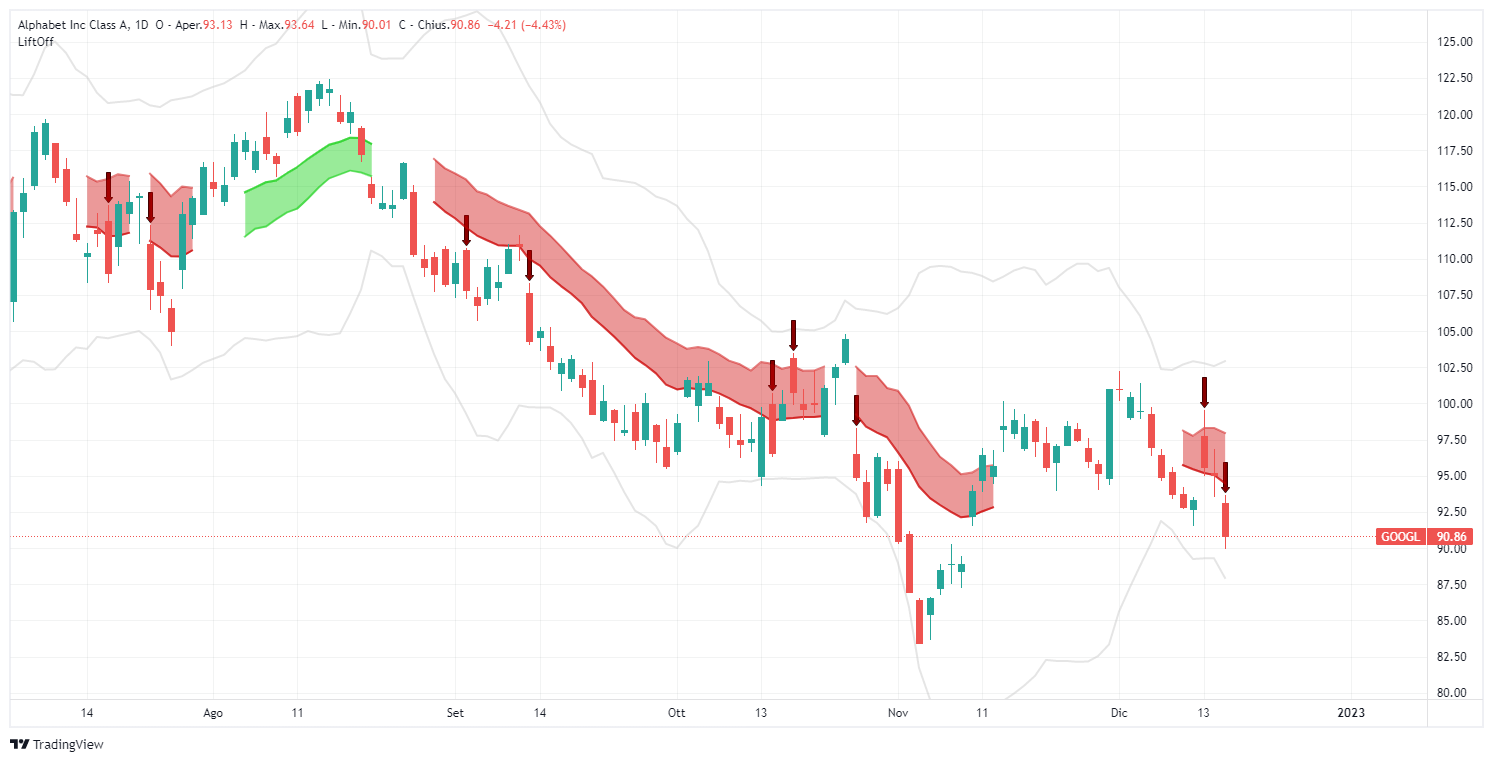 The company operates in the "Technology Services" industry specifically in the "Software/Internet Services Industry"
Next earnings announcement for Q4 2022:January 31, 2023
Q3 2022 Results
EPS: Reported 1.06/ Expected 1.26/ Previous 1.21
Earnings: Reported 69.09B/ Expected 70.98B/ Previous 69.69B
Company Information
Alphabet, Inc. is a holding company that engages in the acquisition and management of various companies.
It operates through Google, which includes its major Internet products such as ads, Android, Chrome, hardware, Google Cloud, Google Maps, Google Play, Search, and YouTube and other applications.
In addition, it includes companies such as Access, Calico, CapitalG, GV, Verily, Waymo, and X.
The company was founded by Lawrence E. Page and Sergey Mikhaylovich Brin on October 2, 2015, and is headquartered in Mountain View, CA
Financial Overview: GOOGL's current market capitalization is USD 1,232T. The next earnings release date for Alphabet Inc (Google) Class A is Jan. 31. The estimate is USD 1.19.
Accounts, including revenue, expenses, profit and loss: GOOGL's total revenue for the latest quarter is USD 68.45B, down 1.23% from the previous quarter. Net income in Q3 22 is 13.91B USD.
Overview Data and Accounts Source: Tradingview.com
Signal Chart December 16, 2022
SHORT -Alphabet Inc (GOOGLE) Class A - GOOGL
Input Price: 90.86 USD (and any opening price)