SIGN UP NOW FOR FREE


Discover Forex, Stocks and Crypto trading signals with 79% to 89% accuracy
If you want to receive trading signals - like these in real time - register on the platform and buy the Pro version of LargeTrader.
Bella Protocol trading signal - BELUSDT
Altcoin Price Signals and Analysis
Good Evening Traders,
At the close of April 27, Lift-Off confirms a LONG trading signal on Bella Protocol (BELUSDT).
The current price of BELUSDT is 0.8014 USDT, registering +9.69% yesterday
Bella Protocol currently ranks 406th in the capitalization ranking.
Below is the chart of BTCUSDT with the signal detected by Lift-Off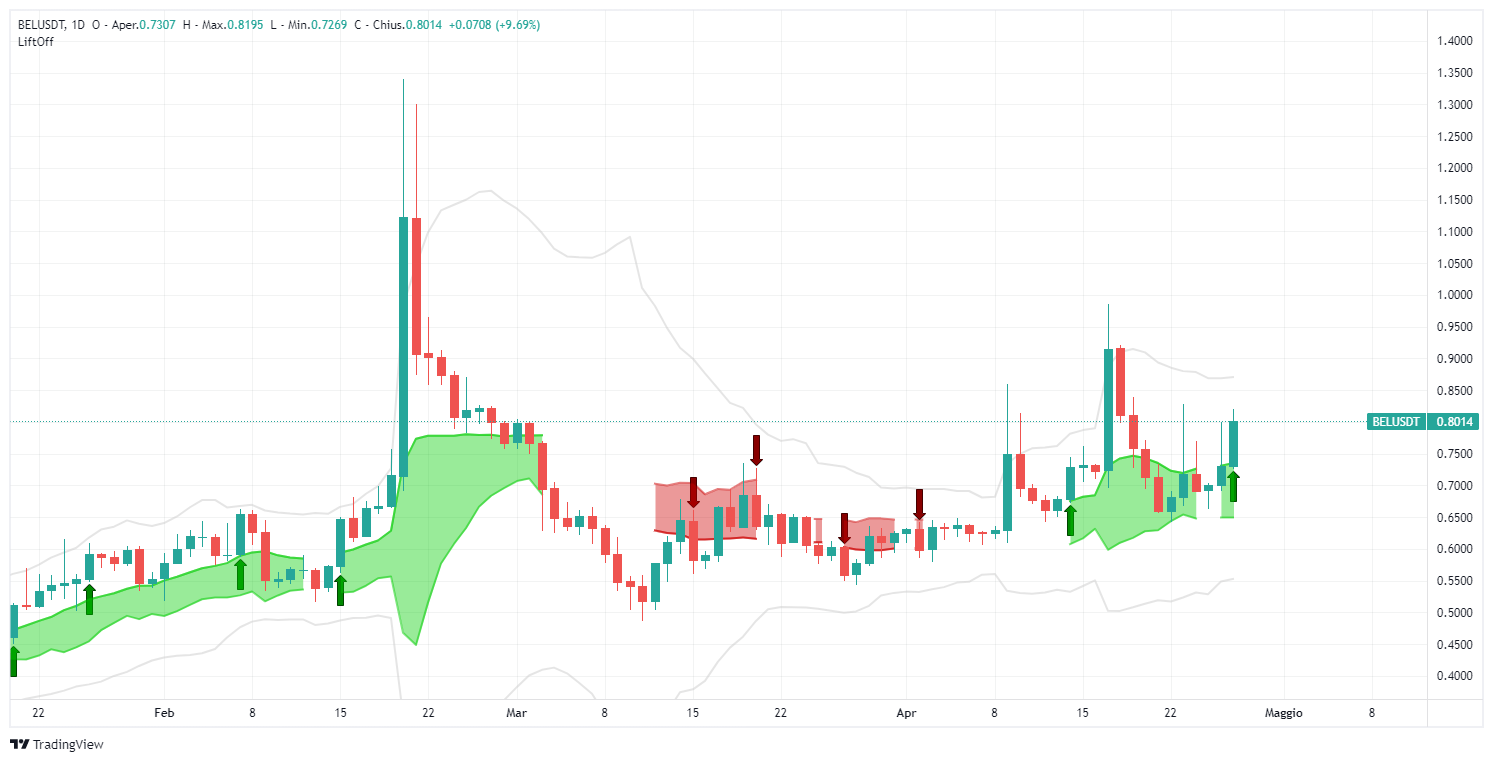 Project
Bella Protocol (BEL) is a platform that offers a set of DeFi (decentralized finance) products designed to make crypto banking easier and more accessible. The protocol aims to create a better user experience by eliminating the problems of high fees and slow transactions that can plague some blockchain platforms, while at the same time improving the user experience through its smart DeFi portal. Bella's smart pool feature allows users to access the best returns available in the DeFi market while benefiting from near-zero gas fees, as these are directly subsidized by the platform. Bella Protocol is the first project to be hosted on Binance's Launchpool platform, a new initiative designed to bring the DeFi experience to Binance users.

Source: coinmarketcap.com
April 27, 2023
LONG - Bella Protocol - BELUSDT
Input price: 0.8014 USDT (or any price if not too far away)
Important:
We would like to remind you that the chosen signal was identified from those detected by the Lift-Off indicator, which you can view in the "Signals" section of our website. However, we will NOT provide any guidance on how to handle the trade.
We recommend that you handle the trades as shown during our professional courses on using the platform, available at the following link: https://it.largetrader.com/eventi