SIGN UP NOW FOR FREE


Discover Forex, Stocks and Crypto trading signals with 79% to 89% accuracy
If you want to receive trading signals - like these in real time - register on the platform and buy the Pro version of LargeTrader.
Bitcoin trading signal - BTCUSDT
Crypto Trading Signals
Good morning Traders,
Today, August 27, after the words of FED President Jerome Powell at Jackson Hole, the world's first crypto by capitalization, BTC suffers a loss of 6.11%, closing at around USD 20240.
Seeing the great correlation with the financial world, particularly of stock indices, we enter short on this signal provided by Lift-Off .
BTC contrary to its anti-inflationary nature, is behaving like a Tech stock, as now Large Traders have entered the crypto world, creating financial instruments such as Futures and ETFs.
Therefore, the trading techniques used are the same as those used on instruments better known to traditional finance, making its behavior mirror the movement of instruments that during periods of high inflation and recession experience the largest declines.
From on-chain analysis, despite these declines, Bitcoin continues to be maintained in the wallets of long term holders (by long term investors)
Below chart showing the signal detected by Lift-Off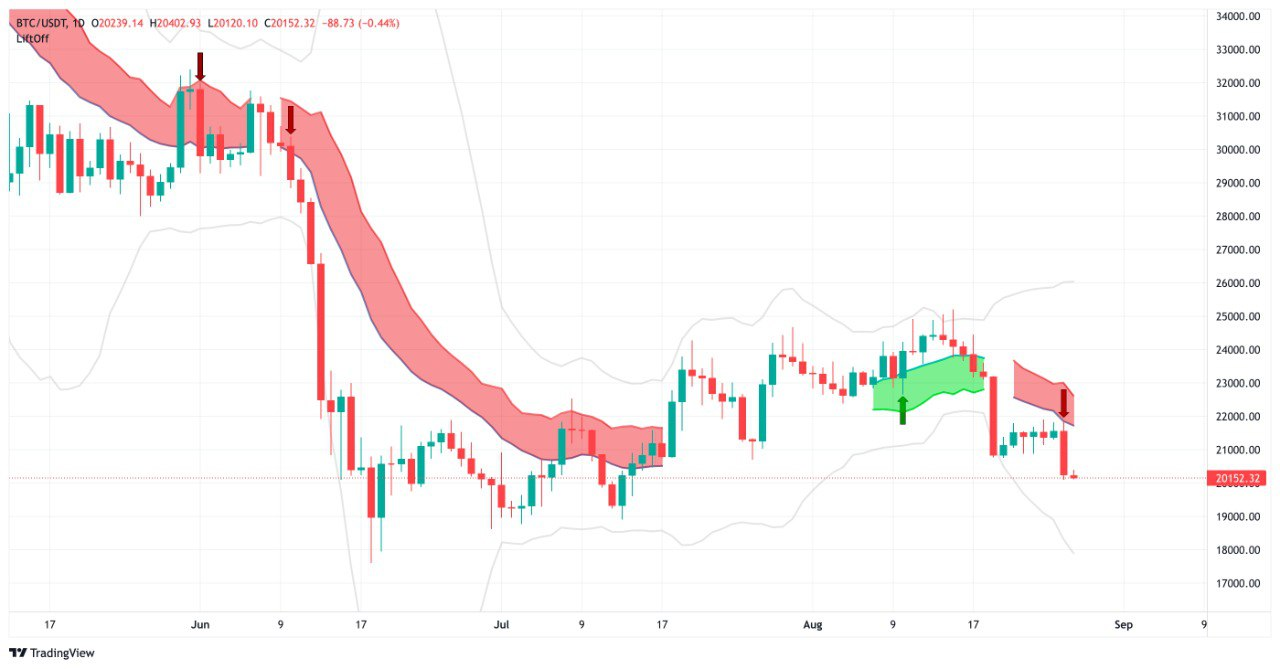 Two words about the Bitcoin project:
Bitcoin is a decentralized cryptocurrency originally described in 2008 led by a person, or group of people, using the pseudonym Satoshi Nakamoto. It was launched shortly thereafter, in January 2009.
Bitcoin is a peer-to-peer online currency, which means that all transactions occur directly equally and independently between network participants, without the need for any intermediary to enable or facilitate them. Bitcoin was created, in Nakamoto's own words, to enable "online payments to be sent directly from one party to another without using a financial institution."
Some similar decentralized electronic currency concepts predate BTC, but Bitcoin holds the distinction of being the first ever cryptocurrency to actually come into use.
Source: coinmarketcap.com

Signal Board of August 26, 2022
SHORT BTCUSD
Price $20,150
Stop Loss : 24.000 $
Take profit : not entered
Risk percentage 1%
We will try to run the trade up to USD 18-17,000 and then see how the price behaves on the period lows.