SIGN UP NOW FOR FREE


Discover Forex, Stocks and Crypto trading signals with 79% to 89% accuracy
If you want to receive trading signals - like these in real time - register on the platform and buy the Pro version of LargeTrader.
Boeing Co - BA trading signal
U.S. stock price signals and analysis
Good morning Traders,
With the close of June 8, Lift-Off confirms a LONG trading signal on the U.S. stock Boeing Co (Ticker: BA) listed on the NYSE and part of the S&P500 and DOW JONES index
The stock closed at USD 218.11 per share, marking a +2.92%.
Below chart of Boeing Co - BA- with the signal detected by Lift-Off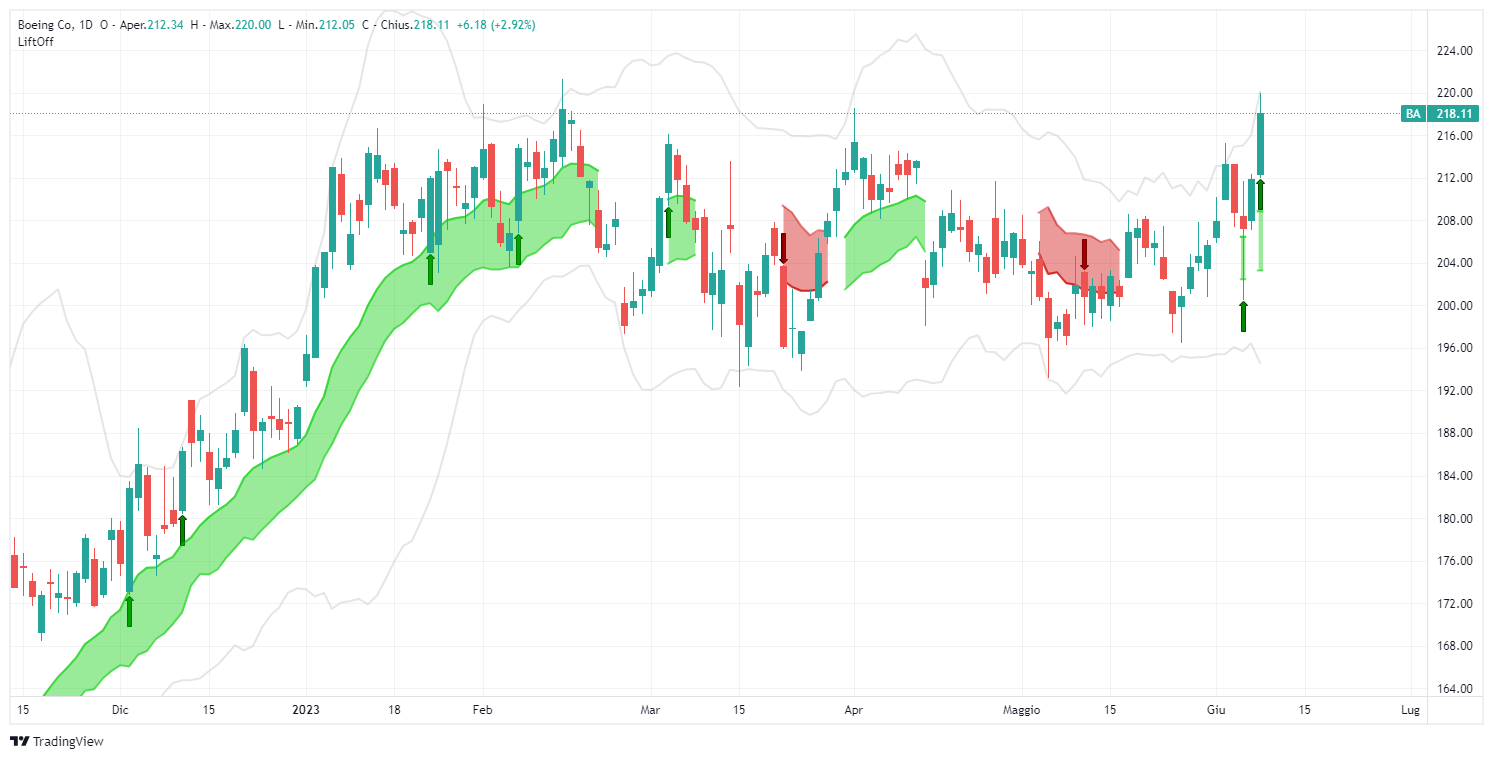 The company is active in the "Electronics Technology" industry particularly in the "Aerospace Defense Industry"
Profile
Boeing Co. (BA) is a global company in the aerospace and defense industry. Founded in 1916, the company designs, manufactures and supplies commercial aircraft, defense and space systems, and related support services. Boeing is known for producing iconic aircraft such as the Boeing 747, Boeing 777, and Boeing 787 Dreamliner.
The company is committed to technological innovation and delivering advanced solutions to meet customers' aerospace needs. In addition to aircraft production, Boeing offers maintenance, repair, and overhaul services, as well as training and technical support services.
Boeing has an extensive international presence and works with governments, airlines, and industry partners around the world. The company is focused on safety, quality, and sustainability, working to reduce the environmental impact of its operations and develop more energy-efficient technologies.
However, it should be noted that Boeing has faced significant challenges in recent years, such as the Boeing 737 MAX crash, which affected the company's image and financial performance.
In spite of the challenges, Boeing continues to be a key player in the aerospace industry, contributing to the advancement of technology and global connectedness through its products and services.
Next earnings announcement for Q4 2022:July 26, 2023
Q1 2023 Results
EPS: Reported -2.17 / Expected -1.07 / Previous -1.75
Earnings: Reported 17.92B / Expected 17.52B / previous 19.98B
Financial Overview: Current market capitalization of BA amounts to 131.214B USD.
Accounts, including revenue, expenses, profit and loss: BA's total revenue for the latest quarter is 17.92B USD, down 10.31% from the previous quarter. Net income in Q1 23 is -414.00M USD.
Earnings and Revenues:BAB's earnings for the last quarter are -1.27 USD while the estimate was -1.07 USD, which explains the -18.31% change. The company's revenue for the same period is USD17.92B despite the estimated figure of USD17.52B. Estimated profits for the next quarter are -0.88B USD, while revenues are expected to reach 17.25B USD. Also look at the annual changes over time to get a broader picture of BA's earnings and revenue dynamics.
Overview data and accounts source: Tradingview.com
Signal board of June 09, 2023
LONG - Boeing Co - BA
Input price: 218.11 USD (and any opening price)
Important:
Remind that the signal has been chosen from those detected by the Lift-Off indicator, visible in the signals area, but the management of the trade will NOT be notified.
We recommend handling the operations as shown during the professional courses on using the platform available at this link https://it.largetrader.com/event