SIGN UP NOW FOR FREE


Discover Forex, Stocks and Crypto trading signals with 79% to 89% accuracy
If you want to receive trading signals - like these in real time - register on the platform and buy the Pro version of LargeTrader.
Charter Communications Inc - CHTR trading signal
U.S. stock price signals and analysis
LLift-Off, with the close on March 22, detected a SHORT trading signal on the stock of NASDAQ-listed Charter Communications Inc (Ticker: CHTR), part of the S&P500 and NASDAQ index
The stock closed at US$341.83 per share.
After the announcement of interest rate hike at yesterday's FOMC by 25bp, the stock closed on the lows. Today the markets seem to react positively instead, so trade with reduced risk.
Below chart of Charter Communications Inc - CHTR - with the signal detected by Lift-Off.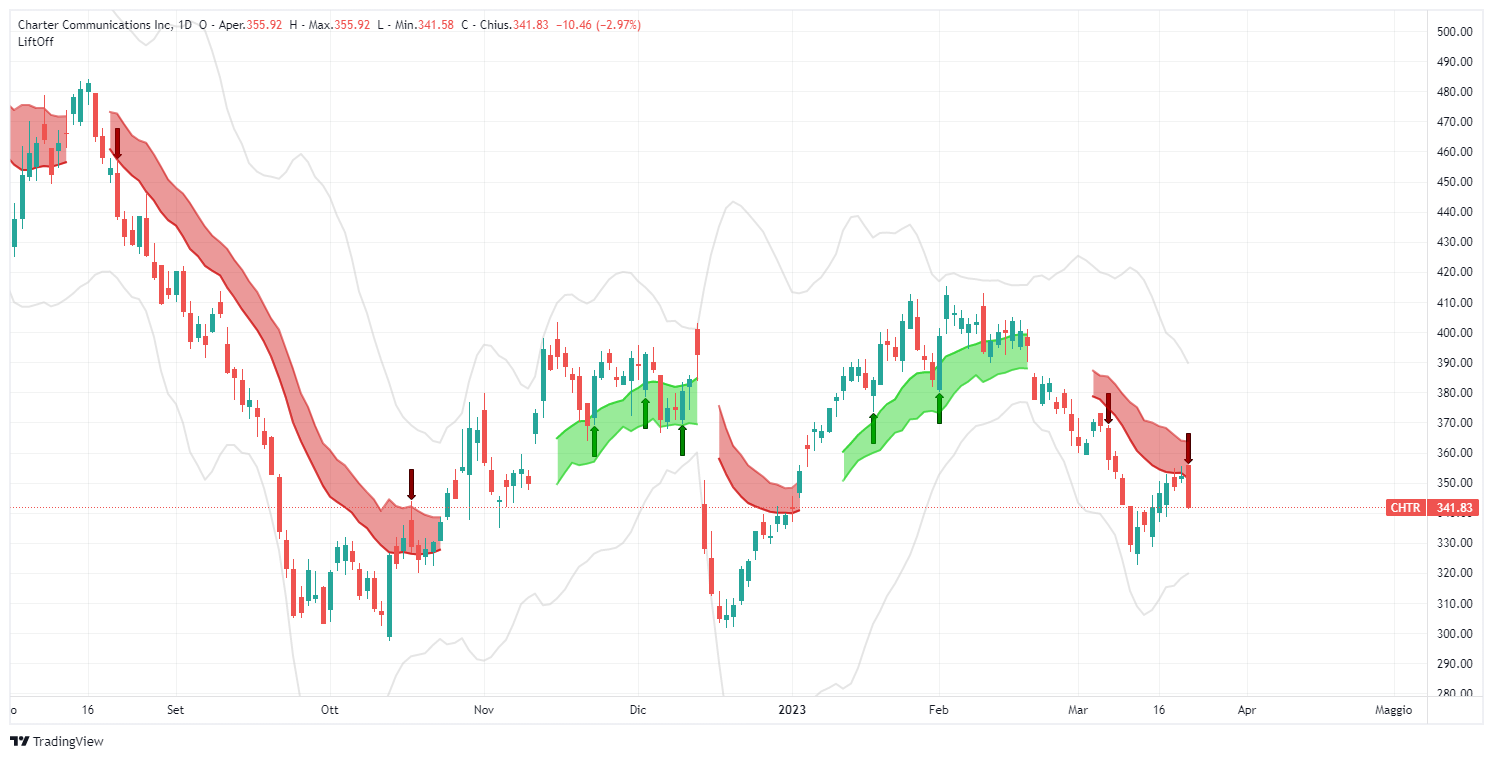 Profile:
Charter Communications Inc operates as a broadband connectivity company and cable operator serving residential and commercial customers in the United States. The company offers subscription-based Internet, video, mobile, and voice services; a suite of broadband connectivity services, including fixed, Wi-Fi, and mobile Internet; security suite that protects computers from viruses and spyware and threats from malicious attackers; in-home WiFi, which provides customers with high-performance wireless routers and managed WiFi services to enhance their fixed wireless Internet experience; out-of-home Wi-Fi; and Spectrum WiFi services. The company also offers voice communication services using Voice over Internet protocol technology; and broadband communication solutions, such as Internet access, data networks, fiber connectivity, video entertainment, and business telephone services to cellular towers and office buildings for businesses and operator organizations. It also provides mobile services; video programming, static IP and enterprise Wi-Fi, e-mail, and security services; sells local advertising on various network platforms, such as TBS, CNN, and ESPN; sells advertising inventory to local sports and news channels; and offers Audience App to create data-driven linear TV campaigns for local advertisers. In addition, the company offers communications products and managed services solutions; data connectivity services to mobile and fixed operators on a wholesale basis; and owns and operates regional sports and news networks. It serves about 32 million customers in 41 states. The company was founded in 1993 and is headquartered in Stamford, Connecticut.
Next earnings release for Q1 2023: April 27, 2023
Financial Overview: CHTR's current market capitalization is $53,778B USD. The next earnings release date for Charter Communications, Inc is April 28. The estimate is USD7.60.
Accounts, including revenue, expenses, profit and loss: CHTR's total revenue for the latest quarter is USD13.67B, up 0.92% from the previous quarter. Net income in Q4 22 is 1.20B USD.
Overview data and accounts source: Tradingview.com
March 23, 2023 signal board
SHORT - Charter Communications Inc - CHTR
Input price: $341.83 (and any opening price)
Important:
Please note that the signal chosen was identified from those detected by the Lift-Off indicator, which you can view in the "Signals" section of our website. However, we will NOT provide any guidance on how to handle the trade.
We recommend that you handle the trades as shown during our professional courses on using the platform, available at the following link: https://it.largetrader.com/eventi