SIGN UP NOW FOR FREE


Discover Forex, Stocks and Crypto trading signals with 79% to 89% accuracy
If you want to receive trading signals - like these in real time - register on the platform and buy the Pro version of LargeTrader.
Chromia trading signal - CHRUSDT
Altcoin Price Signals and Analysis
Good Evening Traders,
Almost at the close of January 12, a Lift-Off, LONG trading signal is forming on the altcoin Chromia (CHRUSDT)
Chromia against USDT at this moment stands at USDT 0.1295, marking a +3.60%.
It is currently ranked 199th in the classic by capitalization.
The signal turns on after a series of bullish candles and with BTC registering +5.19% right now, this volatility allows the green band to turn on again, we choose it because the price during the day has already retraced with a bearish movement.
After the positive U.S. CPI (inflation) news, the market is experiencing a return of buying.
Below Chromia chart with the signal detected by Lift-Off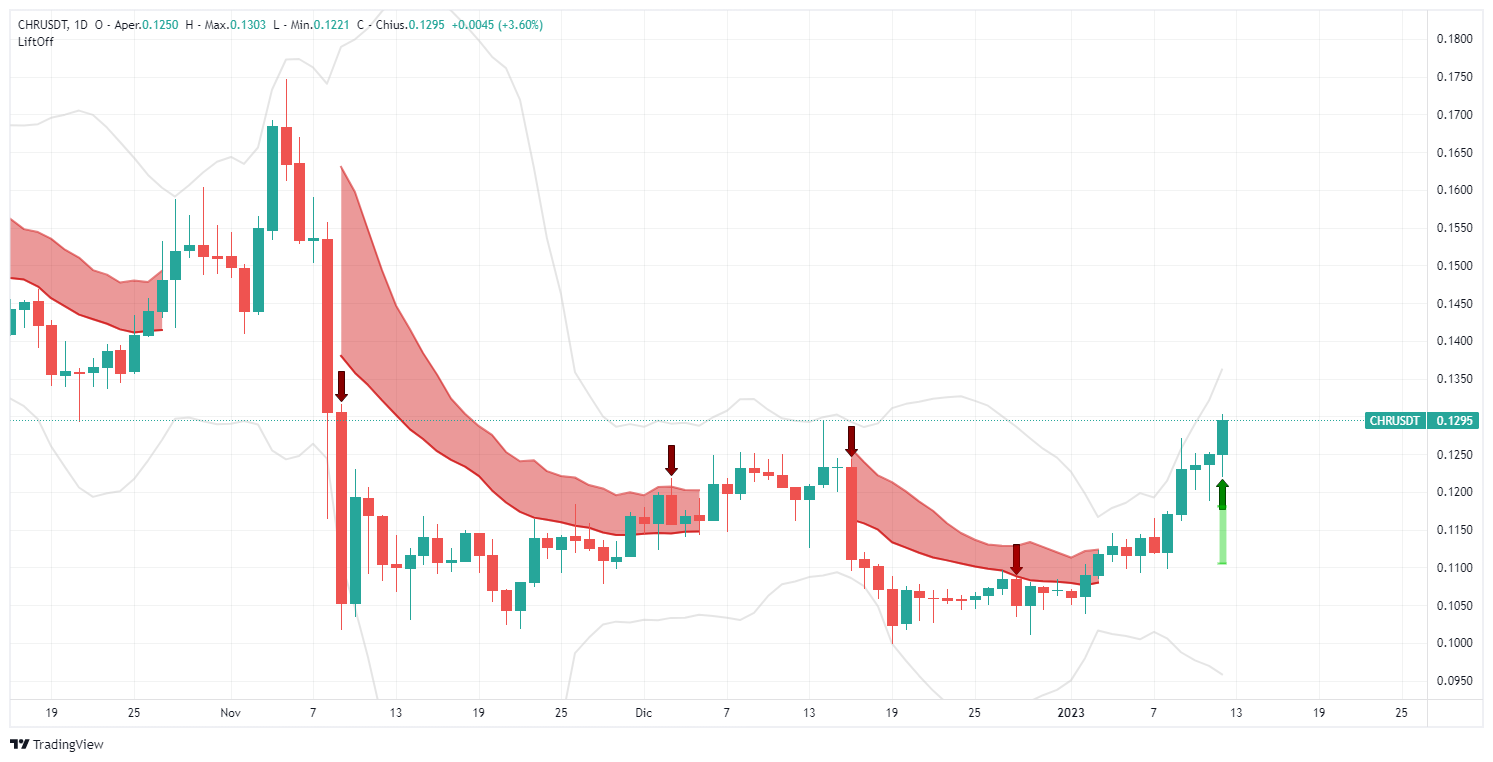 Two words about the Chromia project:
[...]Chromia is an open source public blockchain designed by the Swedish company Chromaway AB. The Chroma token (CHR) was launched in May 2019. The technology behind the Chromia blockchain is adapted from an earlier technology called "Postchain," a solution provided by Chromaway AB for enterprise customers.[...]
Source: coinmarketcap.com

Signal board of January 13, 2023
LONG - CHROMIA - CHRUSDT
Input price: 0.1295 USDT (or any price if not too far away)
Important:
Please note that the signal chosen was identified from those detected by the Lift-Off indicator, which you can view in the "Signals" section of our website. However, we will NOT provide any guidance on how to handle the trade.
We recommend that you handle the trades as shown during our professional courses on using the platform, available at the following link: https://it.largetrader.com/eventi