SIGN UP NOW FOR FREE


Discover Forex, Stocks and Crypto trading signals with 79% to 89% accuracy
If you want to receive trading signals - like these in real time - register on the platform and buy the Pro version of LargeTrader.
Cipher Mining Inc - CIFR trading signal
U.S. stock price signals and analysis
Good morning Traders,
With the close of February 15, Lift-Off confirms a LONG trading signal on the U.S. stock Cipher Mining Inc (Ticker: CIFR) listed on NASDAQ and part of the Russell 2000 Index (RUT), so it is a Small Cap
The stock closed at USD 24.37 per share, marking +8.53%.
Yesterday BTC performed very well and this mining company could benefit. This operation is highly correlated to the crypto world, given the movement that small caps have, particularly in correlation with cryptos, hold low risk.

Below the chart of Cipher Mining Inc - CIFR- with the signal detected by Lift-Off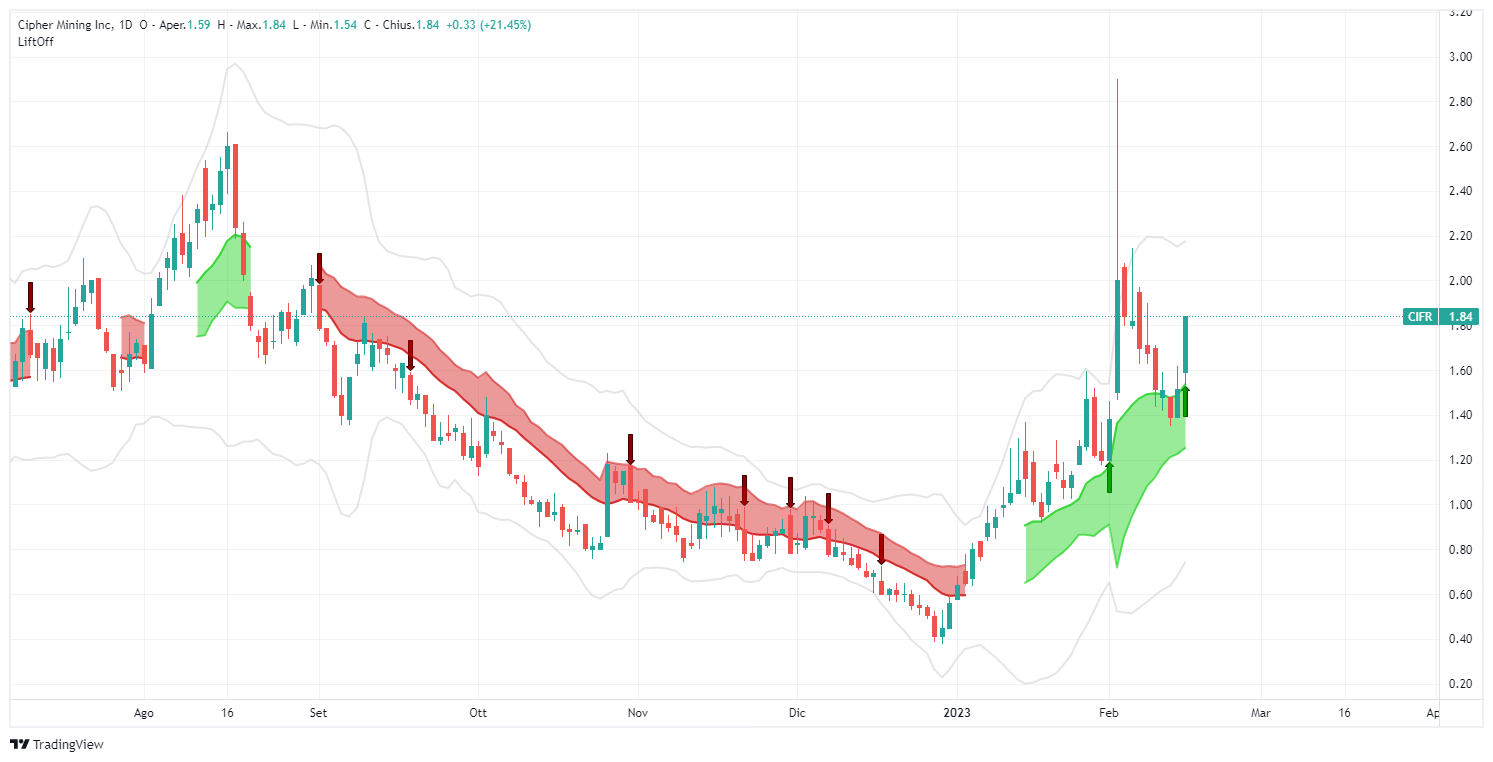 The company operates in the "Technology Services" industry specifically in the "Data Processing Services Industry"
Profile
CIPHER MINING is an industrial-scale Bitcoin mining company dedicated to expanding and strengthening the critical infrastructure of the Bitcoin network in the United States. Their mission is to provide the vital foundation necessary for the Bitcoin network to thrive.
They believe in the future of the Bitcoin network and its potential to improve existing financial systems and ultimately the quality of life.
They are oriented toward a future in which an open-source digital native network for the transmission and storage of value thrives, and they believe that the security of that network is vital.
Their senior management team leverages extensive experience in the domains of technology, fintech, energy, and finance, as well as deep experience related to cryptocurrencies and blockchain.
Booked on the stock exchange on December 7, 2020
Next earnings announcement for Q4 2023:March 3, 2023
Q3 2022 Results
EPS: Reported -0.06 / Expected -0.07 / Previous -0.12
Earnings: Reported 0/ Expected 0/ Previous 0
Financial Overview:Current market capitalization of CIFR is 375.USD 041M. Cipher Mining Inc's next earnings release date is March 3. The estimate is -0.07 USD.
Accounts, including sales, expenses, profit and loss: -
Overview data source and accounts: Tradingview.com
February 16, 2023
LONG - Cipher Mining Inc - CIFR
Input price: 1.84 USD (and any price)
Important:
Please note that the chosen signal has been identified from those detected by the Lift-Off indicator, which you can view in the "Signals" section of our site. However, we will NOT provide any guidance on how to handle the trade.
We recommend that you handle the trades as shown during our professional courses on using the platform, available at the following link: https://it.largetrader.com/eventi