SIGN UP NOW FOR FREE


Discover Forex, Stocks and Crypto trading signals with 79% to 89% accuracy
If you want to receive trading signals - like these in real time - register on the platform and buy the Pro version of LargeTrader.
COSMOS trading signal - ATOMSDT
Altcoin Price Signals and Analysis
Good Evening Traders,
The closing candle of December 7, confirms a Lift-Off, SHORT trading signal on the altcoin COSMOS (ATOMUSDT)
COSMOS against USDT closed at USDT 9.617, marking a -5.40%.
COSMOS is currently is 22nd in the classic by capitalization
The signal occurs far from the absolute period lows at USDT 5.60, so the room for a descent, not necessarily to the lows is there.
Below is the chart of COSMOS with the signal detected by Lift-Off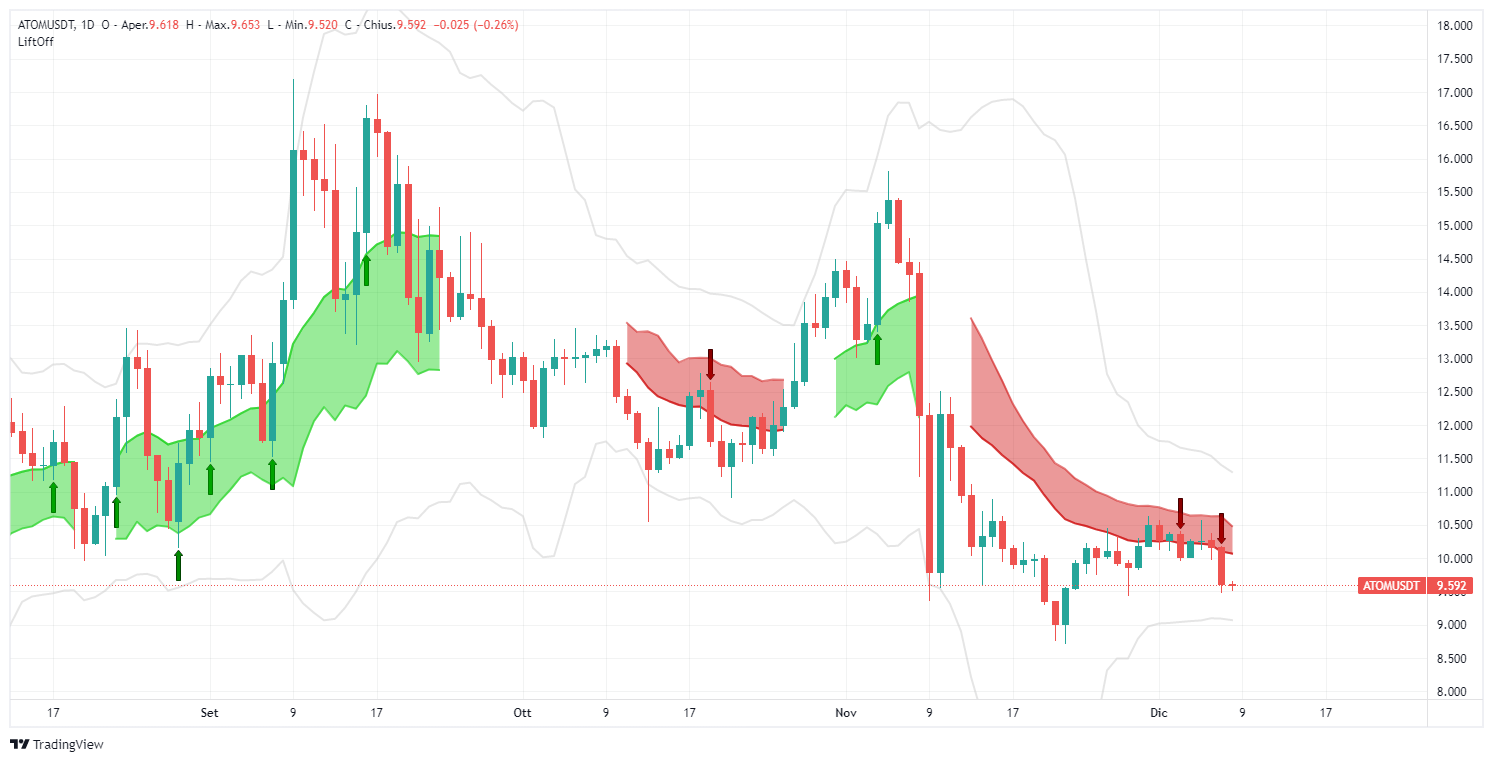 Two words about the COSMOS project:
[...]In a nutshell, Cosmos describes itself as a project that solves some of the "toughest problems" facing the blockchain industry. It aims to offer an antidote to "slow, expensive, unscalable and environmentally harmful" proof-of-work protocols, such as those used by Bitcoin, by offering an ecosystem of connected blockchains.
The project's other goals include making blockchain technology less complex and difficult for developers through a modular framework that makes decentralized apps easier. Last but not least, an interblockchain communication protocol simplifies communication between blockchain networks, preventing fragmentation in the industry.
The origins of Cosmos date back to 2014, when Tendermint, a major contributor to the network, was founded. A white paper for Cosmos was published in 2016 and a token sale was held the following year.
ATOM tokens are earned through a hybrid proof-of-stake algorithm and help keep Cosmos Hub, the project's flagship blockchain, safe. This cryptocurrency also plays a role in network governance.[...]
Source: coinmarketcap.com

Signal board of December 8, 2022
SHORT- COSMOS - ATOMUSDT
Input price: 9.69 USDT (or any price if not too far away)