SIGN UP NOW FOR FREE


Discover Forex, Stocks and Crypto trading signals with 79% to 89% accuracy
If you want to receive trading signals - like these in real time - register on the platform and buy the Pro version of LargeTrader.
DFI.MONEY trading signal - YIIUSDT
Altcoin Price Signals and Analysis
Good Evening Traders,
Today, December 5, Lift-Off is offering us a SHORT trading signal on the altcoin DFI.MONEY (YFIIUSDT)
DFI.MONEY against USDT is about to close at USDT 1473.10, marking a -14.36%.
DFI.MONEY is currently ranks 300th in the classic by capitalization
The signal is generated looks like a swing of the bearish movement following a bull run signaled by Lift-Off a month ago (Nov. 7).Currently, after 2 days of strong bull market, today's candle shows us that YFII might return to the lows.
Below chart of DFI.MONEY with the signal detected by Lift-Off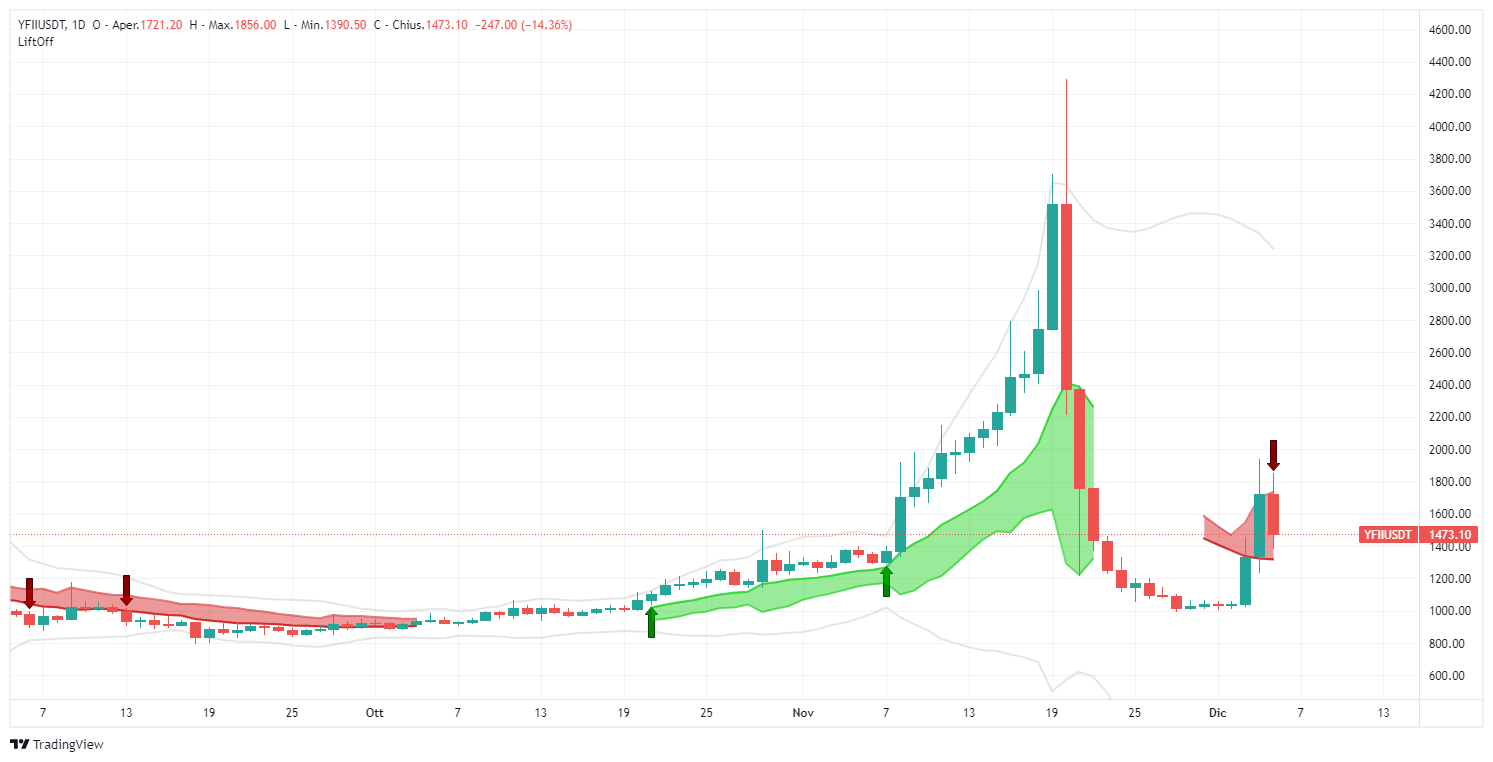 Two words about the DFI.MONEY project:
[...]DFI.MONEY, also known as YFII, is a fork of the popular decentralized finance aggregator platform( (DeFi) yearn.finance (YFI).
Launched in July 2020, it aims to optimize returns for DeFi investors by adhering to changes proposed in an upgrade plan called YIP-8.
In addition to protocol changes, DFI.MONEY has also released new products, including Vault, which it describes as its "killer product."
DFI's native token.MONEY is YFII, a fixed-supply token that liquidity providers earn based on their network interaction.[...]
Source: coinmarketcap.com

Signal board of December 6, 2022
SHORT- DFI.MONEY - YFIIUSDT
Input price: 1473 USDT (or any price if not too far away)
.