SIGN UP NOW FOR FREE


Discover Forex, Stocks and Crypto trading signals with 79% to 89% accuracy
If you want to receive trading signals - like these in real time - register on the platform and buy the Pro version of LargeTrader.
Ethereum trading signal - ETHUSDT
Altcoin price signals and analysis
Good evening Traders,
Yesterday, March 10, Lift-Off confirmed a LONG trading signal on the crypto Ethereum (ETHUSDT).
The current price of ETHUSDT is $1918.75 USDT, and yesterday it closed +2.67%
Ethereum is currently ranked #2 by capitalization.
A crucial event for the Ethereum blockchain is approaching: a hard fork called "Shanghai" will take place on April 12, which will introduce the possibility of withdrawing Ether that has been locked in staking for two years. This news could have significant effects on the price of Ether, both positively and negatively.
On the one hand, in fact, some users may want to sell their cryptos to realize the gains they have accumulated in staking, causing bearish pressure on the market. However, only 20 percent of Ether in staking would currently be in profit. On the other hand, however, the hard fork could incentivize Ether staking, making it more flexible and convenient. Indeed, users could entrust their Ether to validators for a passive annuity, but with the ability to withdraw them at any time. This mechanism has already been implemented by some platforms, such as Binance with BETH or Lido with stETH, but now it will become native in Ethereum's blockchain.
In conclusion, the "Shanghai" hard fork represents an important step toward Ethereum's transition to a more efficient and sustainable consensus model. Its impact on the price of Ether will depend on users' reactions and the balance between crypto supply and demand.
Below is the chart of ETHUSDT with the signal detected by Lift-Off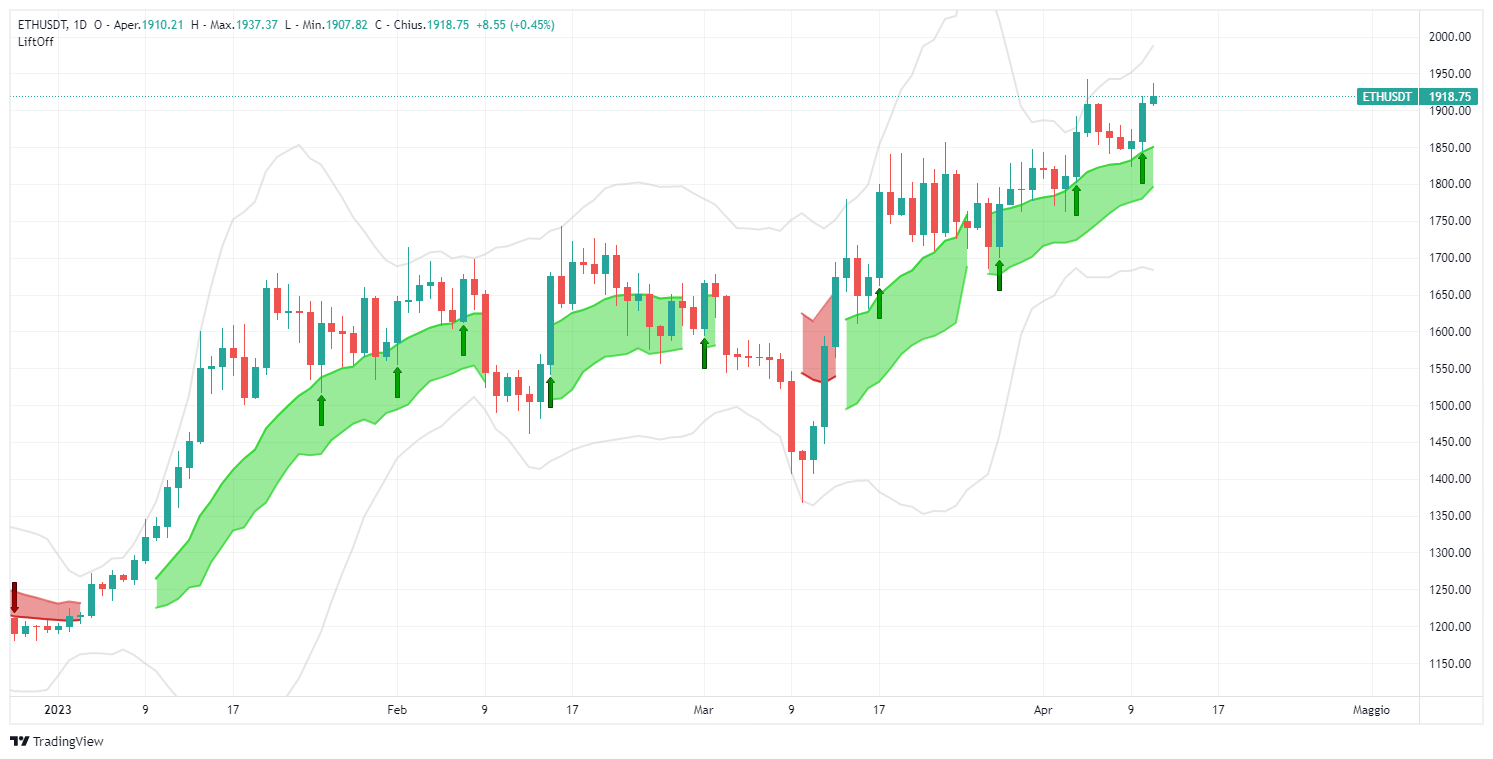 Project
Ethereum is an open source project that aims to create a decentralized platform for the creation and execution of smart contracts based on blockchain technology. Ethereum uses the cryptocurrency Ether (ETH) as the unit of account and fuel for transactions on the network. Ethereum was born in 2013 from the idea of Vitalik Buterin, a young programmer and Bitcoin enthusiast, who published his white paper in an online magazine.
In 2014, Buterin founded the Ethereum Foundation, a nonprofit organization that is responsible for developing and promoting the project. Ethereum launched its first live version, called Frontier, in July 2015, and has since undergone several updates and improvements.
Ethereum is considered one of the most innovative and versatile blockchain platforms, capable of hosting thousands of distributed applications (dApps) that offer services and solutions in various sectors, such as finance, arts, gambling, digital identity, e-commerce and more.
Source: coinmarketcap.com
Signal board of April 11, 2023
LONG - Ethereum - ETHUSDT
Input price: 1918.75 USDT (or any price if not too far away)
Important:
We would like to remind you that the chosen signal was identified from those detected by the Lift-Off indicator, which you can view in the "Signals" section of our website. However, we will NOT provide any guidance on how to handle the trade.
We recommend that you handle the trades as shown during our professional courses on using the platform, available at the following link: https://it.largetrader.com/eventi