SIGN UP NOW FOR FREE


Discover Forex, Stocks and Crypto trading signals with 79% to 89% accuracy
If you want to receive trading signals - like these in real time - register on the platform and buy the Pro version of LargeTrader.
Etsy Inc Trading Signal - ETSY
US stock price signals and analysis
Good morning Traders,
With the close of January 23, Lift-Off confirms a LONG trading signal on the US stock Etsy Inc (Ticker: ETSY) listed on the NASDAQ and part of the S&P500 (SPX)
The stock closed at USD 139.12 per share, marking a +5.54%.
Second signal a few days later for Etsy, which is approaching with volatility the period high, if the short-term resistance is violated to the upside, it could initiate an uptrend towards the next resistance in the 161 USD area.
Below chart of Etsy Inc - ETSY - with the signal detected by Lift-Off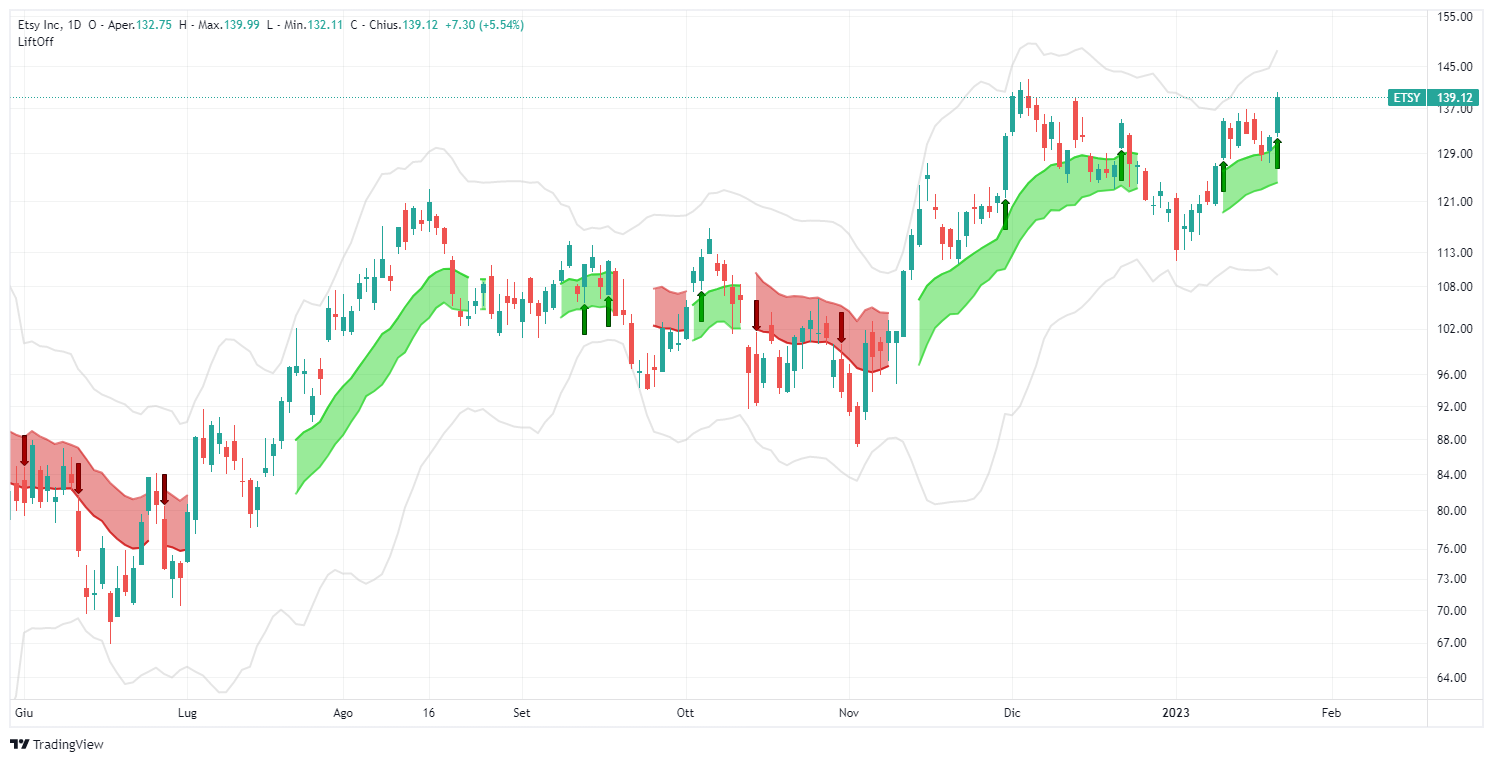 The company operates in the "Retail Sales" industry specifically in the "Retail Internet Industry"
Profile
Etsy is a global e-commerce platform that enables individuals and businesses to sell and purchase unique, handmade items. The company was founded in 2005 and is based in Brooklyn, New York. Etsy focuses on promoting artisan makers and small businesses, offering them a platform to sell their products to a wide range of buyers around the world. The company has a market capitalization of more than $8 billion and has more than 60 million items for sale on its platform. Etsy has worked hard to create a global community of buyers and sellers who support the circular economy and the purchase of sustainable products.
Next earnings announcement for Q4 2022:February 28, 2023
Q3 2022 Results
EPS: Reported -7.62 / Expected 0.37 / Previous 0.51
Turnover: Reported 594.47M/ Expected 565.04M/ Previous 585.13M
Financial Overview: ETSY's current market capitalization amounts to 16.568B USD. The next earnings release date for Etsy, Inc is Feb. 28. The estimate is $0.80 USD.
Accounts, including revenue, expenses, profit and loss:ETSY's total revenue for the latest quarter is $594.47M USD, up 1.60% from the previous quarter. Net income in Q3 22 is -963.07M USD.
Overview data and accounts source: Tradingview.com
Signal board January 24, 2023
LONG - Etsy Inc - ETSY
Input price: 139.12 USD (and any opening price, avoid too large GAPs)
Important:
You are reminded that the signal you choose was identified from those detected by the Lift-Off indicator, which you can view in the "Signals" section of our website. However, we will NOT provide any guidance on how to handle the trade.
We recommend that you handle the trades as shown during our professional courses on using the platform, available at the following link: https://it.largetrader.com/eventi