SIGN UP NOW FOR FREE


Discover Forex, Stocks and Crypto trading signals with 79% to 89% accuracy
If you want to receive trading signals - like these in real time - register on the platform and buy the Pro version of LargeTrader.
Euro/Australian dollar trading signal - EURAUD
Forex market price signals and analysis
Good morning Traders,
With the close of April 21, Lift-Off confirms a LONG trading signal on EURAUD.
Seeing the strength of Euro against AUD, shown by both price and the ForexForce indicator, a long trade can be opened to try a one-day stretch even (trends in this period are characterized by large retracements and high volatility does not always continue with the next session).
Euro strength can also be seen from the COT, with Large Trader positions very positive (over 164,000 net long positions), compared to positions on AUD which are negative.
The central banks' overnight interest rate between the two countries is also almost identical, 3.5% euro zone, 3.6% Australia, but the latter has stopped raising interest rates unlike the ECB which intends to continue its rise and this pushes to buy euros, as markets always move by expectations.
Below chart of EURAUD - with signal detected by Lift-Off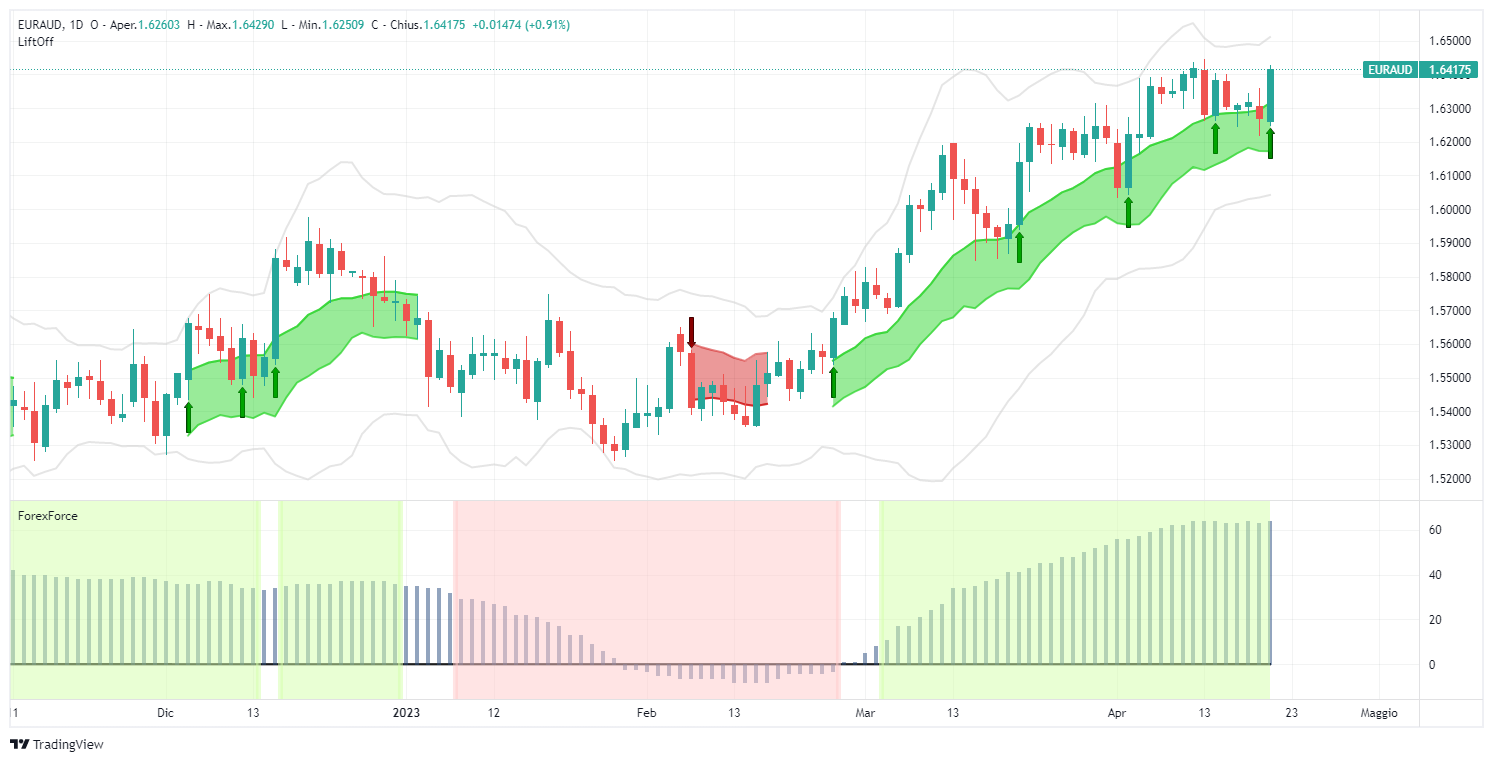 Signal chart of April 22, 2023
LONG - EURAUD
Input price: 1.6417 (current market price and valid any price that is not too far away)
Important:
Please note that the chosen signal has been identified among those detected by the Lift-Off indicator, which you can view in the "Signals" section of our website. However, we will NOT provide any guidance on how to handle the trade.
We recommend that you handle the trades as shown during our professional courses on using the platform, available at the following link: https://it.largetrader.com/eventi