SIGN UP NOW FOR FREE


Discover Forex, Stocks and Crypto trading signals with 79% to 89% accuracy
If you want to receive trading signals - like these in real time - register on the platform and buy the Pro version of LargeTrader.
FANTOM trading signal - FTMUSDT
Altcoin price signals and analysis
Good evening Traders,
Today Lift-Off confirms a SHORT trading signal on the crypto FANTOM (FTMUSDT).
The current price of FTMUSDT is 0.3886 USDT, marking a -13.16%
FTMUSDT is currently ranked 45th in the rankings by capitalization.
Below is the chart of FTMUSDT with the signal detected by Lift-Off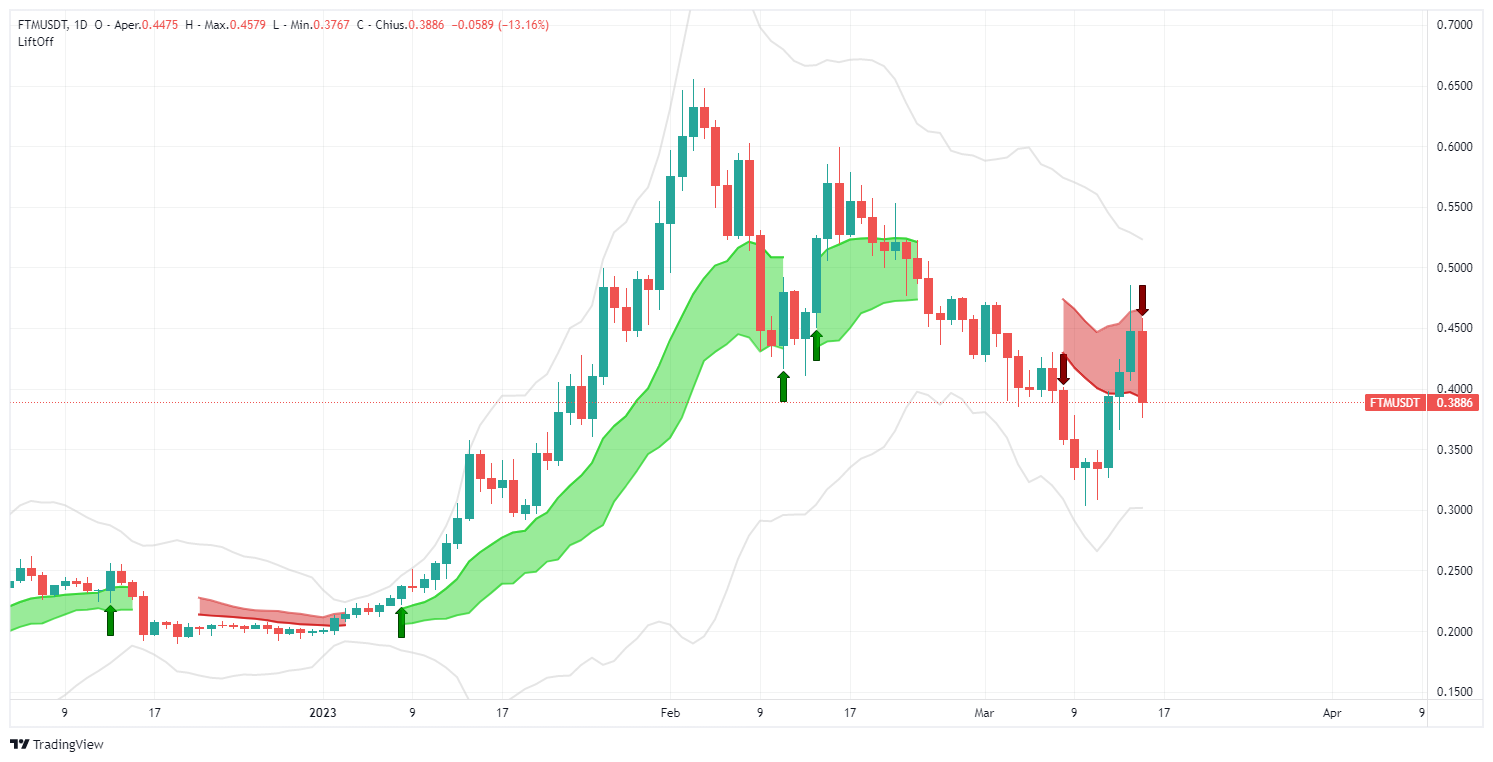 Project
Fantom is a high-performance blockchain project that aims to improve the efficiency, scalability and security of decentralized applications (DApps). Its proof-of-stake (PoS) consensus protocol introduces a combination of innovative technologies, including Directed Acyclic Graph (DAG) technology, to ensure greater efficiency in transaction management.
Fantom was launched in 2018 and has as its main goal the creation of a DeFi platform that can compete with traditional solutions. The project focuses on creating infrastructure and protocols that enable the creation of decentralized applications that are scalable and highly efficient.
Thanks to its innovative approach and advanced technology, Fantom has attracted the interest of numerous institutional and private sector investors. Its ability to scale and handle large volumes of transactions makes it an attractive choice for those seeking efficient and secure DeFi solutions.

Source: coinmarketcap.com
March 15, 2023 signal board
SHORT - FANTOM - FTMUSDT
Input price: 0.3886 USDT (or any price if not too far away)
WARNING:keep your risk low, markets in this period have sudden and abrupt changes of direction. For this reason, it may be appropriate to consider short-term positions without overly ambitious targets
Important:
We would like to remind you that the signal chosen has been identified from those detected by the Lift-Off indicator, which you can view in the "Signals" section of our website. However, we will NOT provide any guidance on how to handle the trade.
We recommend that you handle the trades as shown during our professional courses on using the platform, available at the following link: https://it.largetrader.com/eventi