SIGN UP NOW FOR FREE


Discover Forex, Stocks and Crypto trading signals with 79% to 89% accuracy
If you want to receive trading signals - like these in real time - register on the platform and buy the Pro version of LargeTrader.
Injective Protocol trading signal - INJUSDT
Altcoin Price Signals and Analysis
Good Evening Traders,
At the close of June 02, Lift-Off confirms a LONG trading signal on Injective Protocol (INJUSDT).
The current price of INJUSDT is USDT 7.95, registering +8.26% yesterday
Injective Protocol currently ranks 67th in the capitalization ranking.
Below is the chart of INJUSDT with the signal detected by Lift-Off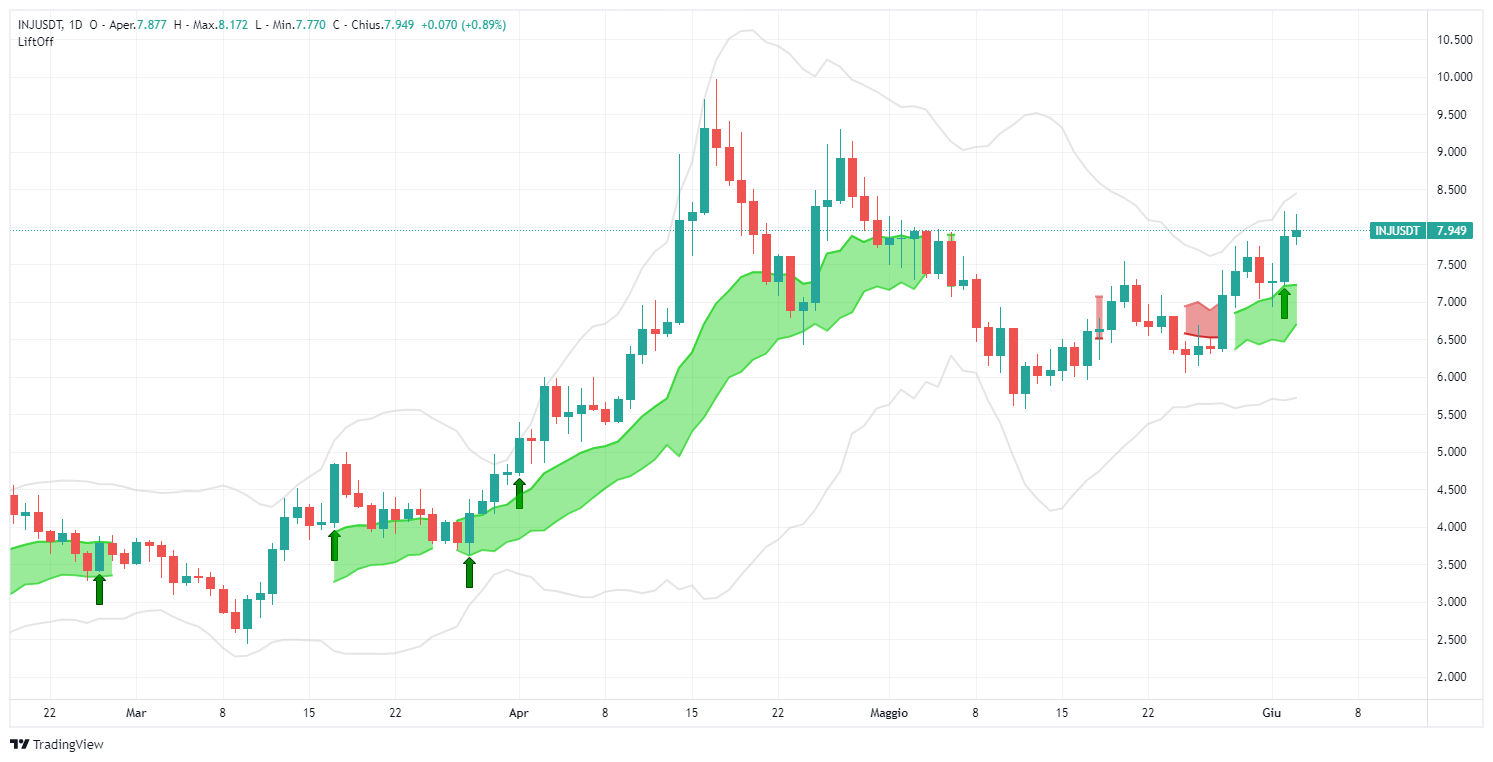 Project
INJ is the native token of the Injective Protocol platform, a decentralized protocol that aims to create a fully decentralized financial ecosystem for trading cryptocurrencies and derivatives. Injective Protocol is based on blockchain technology and uses the Proof-of-Stake (PoS) consensus model to ensure the security and scalability of the network.
INJ plays several roles within the Injective Protocol ecosystem. First, it serves as a medium of exchange within the platform, enabling users to pay transaction fees and participate in trading activities. In addition, INJ plays an important role in the governance of the platform, allowing token holders to vote on key proposals and decisions regarding the evolution of the protocol.
Like many other cryptocurrency tokens, the value of INJ is subject to market fluctuations. The price of INJ can be affected by factors such as the adoption of the Injective Protocol platform, supply and demand in the market, news and events in the cryptocurrency industry, and investors' perceptions of the project and its future prospects.
It is important to note that investing in cryptocurrencies involves significant risks, and investors should conduct thorough research and financial advice before making investment decisions.

Source: coinmarketcap.com
Signal board of June 03, 2023
LONG - Injective Protocol - INJUSDT
Input price: 7.95 USDT (or any price if not too far away)
Important:
We would like to remind you that the chosen signal was identified from those detected by the Lift-Off indicator, which you can view in the "Signals" section of our website. However, we will NOT provide any guidance on how to handle the trade.
We recommend that you handle the trades as shown during our professional courses on using the platform, available at the following link: https://it.largetrader.com/eventi