SIGN UP NOW FOR FREE


Discover Forex, Stocks and Crypto trading signals with 79% to 89% accuracy
If you want to receive trading signals - like these in real time - register on the platform and buy the Pro version of LargeTrader.
Intercontinental Exchange Inc - ICE trading signal
US stock price signals and analysis
Good morning Traders,
With the June 14 close, Lift-Off confirms a LONG trading signal on the US stock Intercontinental Exchange Inc (Ticker: ICE) listed on the NYSE and part of the S&P500 index.
The stock closed at USD 110.67 per share, marking a +1.54%.
After the announcement of the stable interest rate in the United States, unchanged from the last increase of 25 basis points, the Federal Reserve (FED) decided to pause further increases, although it is likely that rates will rise two more times during 2023.
FED Chairman Jerome Powell explained that the reason for this pause is that most of the restrictive measures were already implemented last summer.
Initially, after the announcement of the pause in the rate hike policy, market indexes fell, but later recovered and closed in positive territory.
Below chart of Intercontinental Exchange Inc - ICE- with the signal detected by Lift-Off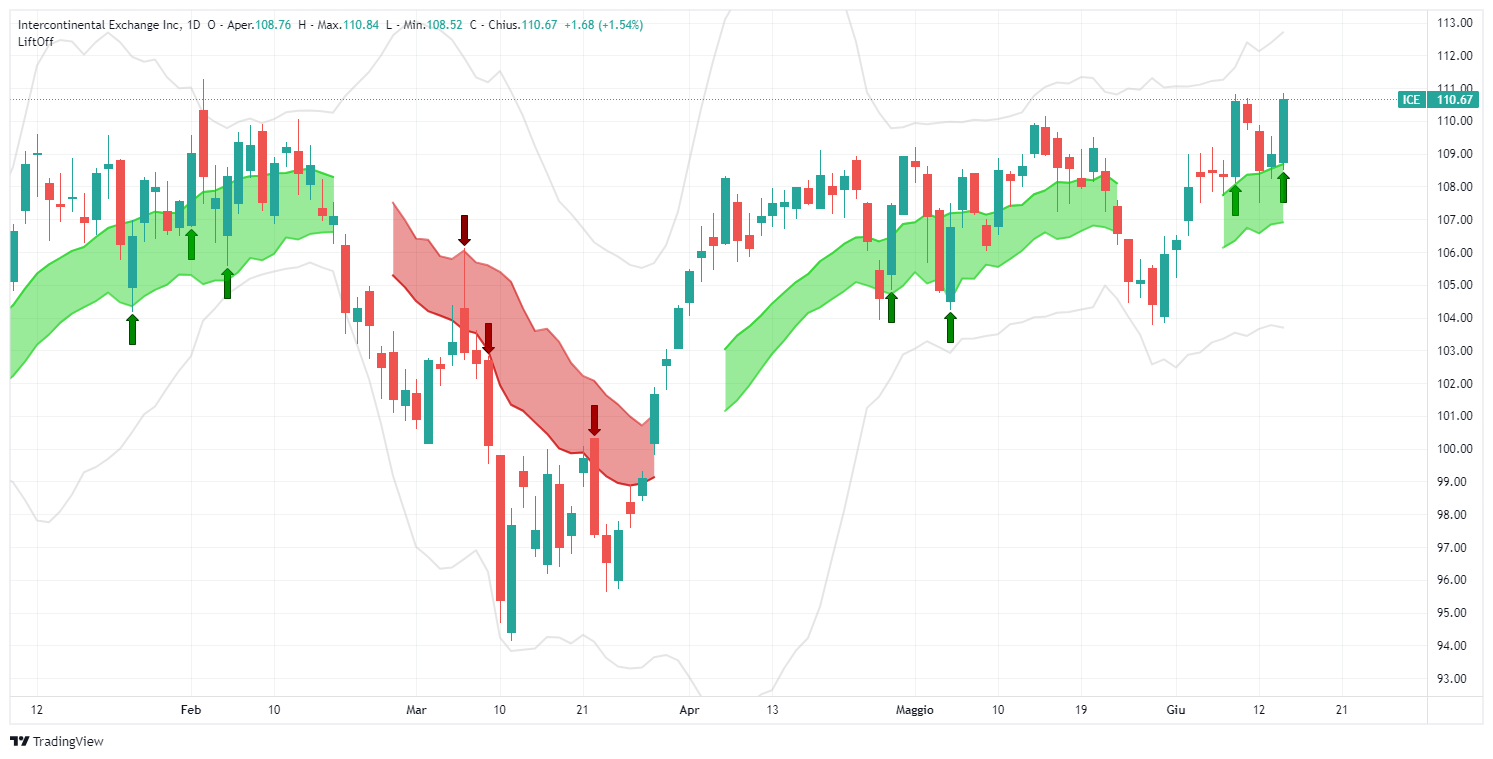 The company is active in the "Finance" industry specifically in the "Broker/Investment Banking Industry"
Profile
Intercontinental Exchange Inc. (ICE) is a leading financial services company operating as a global marketplace for a wide range of financial assets. Founded in 2000, ICE offers trading and clearing platforms for a variety of financial instruments, including futures contracts, options, equities, bonds, and energy products.
The company operates several marketplaces and trading platforms, including the New York Stock Exchange (NYSE), which is one of the world's largest and most influential stock markets. ICE also provides clearing, clearing, and risk management services to help investors and financial institutions manage their trades and market positions.
ICE is distinguished by technological innovation and the integration of advanced data and analytics into its services. The company is committed to providing liquidity, transparency, and efficiency to global financial markets, enabling traders to execute trades quickly and reliably.
In addition, ICE offers market data and analytics services that enable traders to make informed decisions and monitor market trends. The company also focuses on developing new products and solutions to meet the evolving needs of financial traders.
With a global presence, ICE works with a wide range of market participants, including financial institutions, investment firms, commodity traders, and other financial industry players. ICE's main objective is to facilitate the efficient and safe operation of global financial markets, contributing to the stability and success of the financial industry.
Next earnings announcement for Q2 2023:August 3, 2023
Q1 2023 Results
EPS: Reported 1.41 / Expected 1.40 / Previous 1.25
Earnings: Reported 1.90B / Expected 1.90B / previous 1.77B
Financial Overview: Market Capitalization ICE's total revenue for the latest quarter is 2.35B USD, up 6.47% from the previous quarter. Net income in Q1 23 is 655.00M USD.
Earnings and Revenue: ICE's earnings for the last quarter are 1.41 USD while the estimate was 1.40 USD, which explains the 0.72% change. The company's revenue for the same period is $1.90B USD despite the estimated figure of $1.90B USD. Estimated profits for the next quarter are 1.32B USD, while revenues are expected to reach 1.86B USD. Also observe the annual changes over time to get a broader picture of ICE's profit and revenue dynamics.
Overview data and accounts source: Tradingview.com
Signal Chart June 15, 2023
LONG - Intercontinental Exchange Inc - ICE
Input price: US$110.67 (and any opening price, watch for wide GAPs)
Important:
Remind that the signal has been chosen from those detected by the Lift-Off indicator, visible in the signals area, but will NOT be communicated the management of the trade.
We recommend handling the operations as shown during the professional courses on using the platform available at this link https://it.largetrader.com/event