SIGN UP NOW FOR FREE


Discover Forex, Stocks and Crypto trading signals with 79% to 89% accuracy
If you want to receive trading signals - like these in real time - register on the platform and buy the Pro version of LargeTrader.
LINA FINANCE trading signal - LINAUSDT
Altcoin Price Signals and Analysis
Good Morning Traders,
Lift-Off with the close of April 3 confirms a LONG signal on the altcoin LINA FINANCE (LINAUSDT)
LINA against USDT closed at $0.01213 per share, marking a +13.06%.
On Lina this is the second consecutive signal starting from the green Lift-Off band, volatility deviations are contracting, a sign of lowering volatility, inolte, it has been rejected 2 times with bullish candles with long upper shadow, but the trade is worthwhile from a risk-return point of view.
It is currently ranked 376th in the classical by capitalization.
Below chart of LINAUSDT with the signal detected by Lift-Off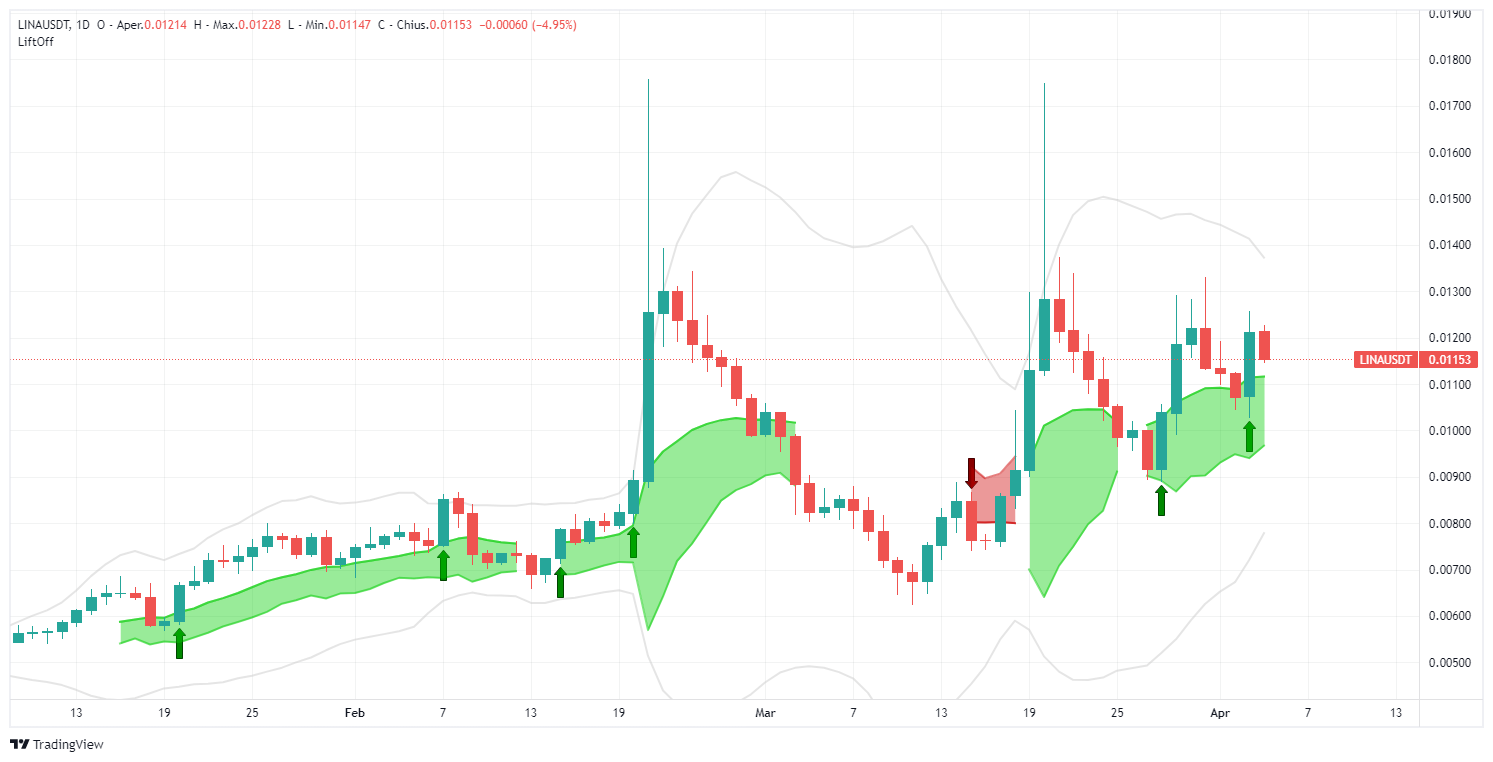 Two words about the Lina Finance project:
LINA finance is a project that aims to create a decentralized platform for managing financial data. The goal is to enable users to access reliable and transparent information about financial markets, companies and products, without intermediaries or censorship. LINA finance is based on blockchain technology and uses the LINA token as a means of payment and incentive for the network. LINA finance offers several features, including:
- An oracle protocol that provides verified and up-to-date data from various external sources.
- A marketplace where users can buy and sell financial data, services and products.
- A governance system that allows users to participate in decisions regarding the project and its development.
LINA finance is an ambitious project that aims to revolutionize the financial sector with the power of blockchain. If you want to learn more, visit the official website https://lina.finance/ or follow the project on social media.

Source: coinmarketcap.com
Signal board of April 4, 2023
LONG - LINA FINANCE - LINAUSDT
Input price: 0.01153 USDT (or any price, even equal to yesterday's close)
Important:
We would like to remind you that the signal chosen was identified from those detected by the Lift-Off indicator, which you can view in the "Signals" section of our website. However, we will NOT provide any guidance on how to handle the trade.
We recommend that you handle the trades as shown during our professional courses on using the platform, available at the following link: https://it.largetrader.com/eventi