SIGN UP NOW FOR FREE


Discover Forex, Stocks and Crypto trading signals with 79% to 89% accuracy
If you want to receive trading signals - like these in real time - register on the platform and buy the Pro version of LargeTrader.
LONG RUSSELL 2000 trading signal - RUT
Index price signals and analysis
Good morning Traders,
At the market close on February 15, Lift-Off offers a LONG trading signal on the US RUSSELL 2000 Index. (Ticker: RUT)
The U.S. benchmark index, containing the 2000 small-cap companies closes at USD 1960.97 marking a +1.09%.
Below the chart of the RUSSELL 2000 - with the signal detected by Lift-Off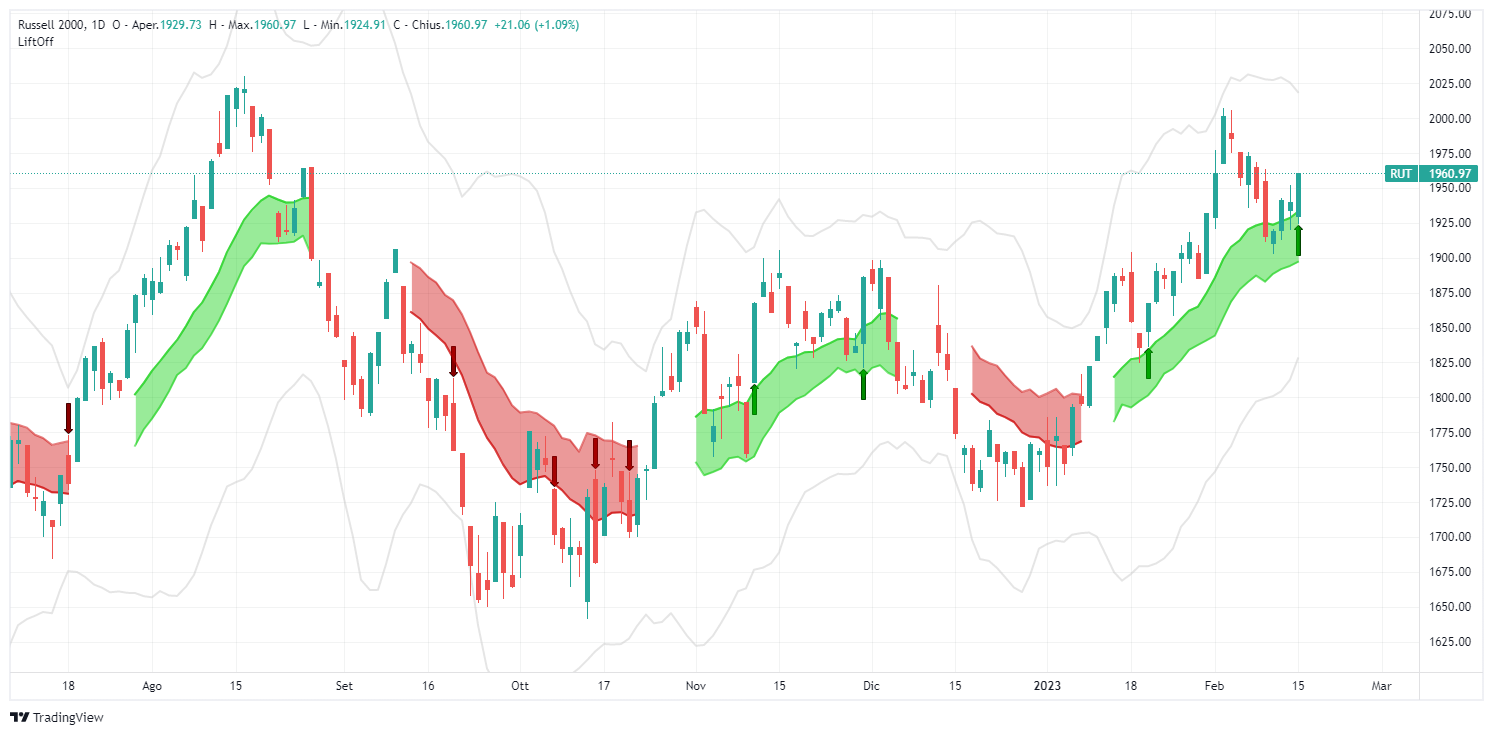 Russell 2000 Index Description
The Russell 2000 Index is a stock market index that measures the performance of the 2,000 smallest companies listed on the U.S. stock market. This index is a major reference source for investors seeking to assess the performance of the U.S. economy at the local level, as the component companies are mostly small and medium-sized companies.
The index was created by the investment firm Russell Investments, and was launched in 1984. The index was designed to be an accurate barometer of the performance of the U.S. economy at the small- and medium-sized company level, and is considered one of the key indicators of the U.S. economy. The index is based on the market capitalization of its component companies, which means that larger companies have a greater impact on the index's performance than smaller ones.
The Russell 2000 Index is used by investors to assess market sentiment toward small businesses and to monitor stock market trends in small- and mid-cap companies. The index is updated annually to reflect changes in the stock market for listed companies, and it is considered one of the most reliable indices for evaluating the performance of smaller companies in the United States.
February 16, 2023
LONG - RUSSELL 2000 Index - RUT
Input price: 1960.97 USD (and any opening price)
Important:
We would like to remind you that the chosen signal was identified from those detected by the Lift-Off indicator, which you can view in the "Signals" section of our website. However, we will NOT provide any guidance on how to handle the trade.
We recommend that you handle the trades as shown during our professional courses on using the platform, available at the following link: https://it.largetrader.com/eventi