SIGN UP NOW FOR FREE


Discover Forex, Stocks and Crypto trading signals with 79% to 89% accuracy
If you want to receive trading signals - like these in real time - register on the platform and buy the Pro version of LargeTrader.
MINTED trading signal - MTDUSDT
Signals and price analysis of altcoins
Signals and price analysis of altcoins
Good morning Traders,
Today March 8 Lift-Off confirms a LONG trading signal on the altcoin Minted (MTDUSDT)
MTDUSDT against USDT currently quotes $0.07727
The trade is related to the retracement of the signal from a few days ago, I waited for the lift-off band to hold.
MTDUSDT is currently ranked 3641st by capitalization
Below is the chart of MTDUSDT with the signal detected by Lift-Off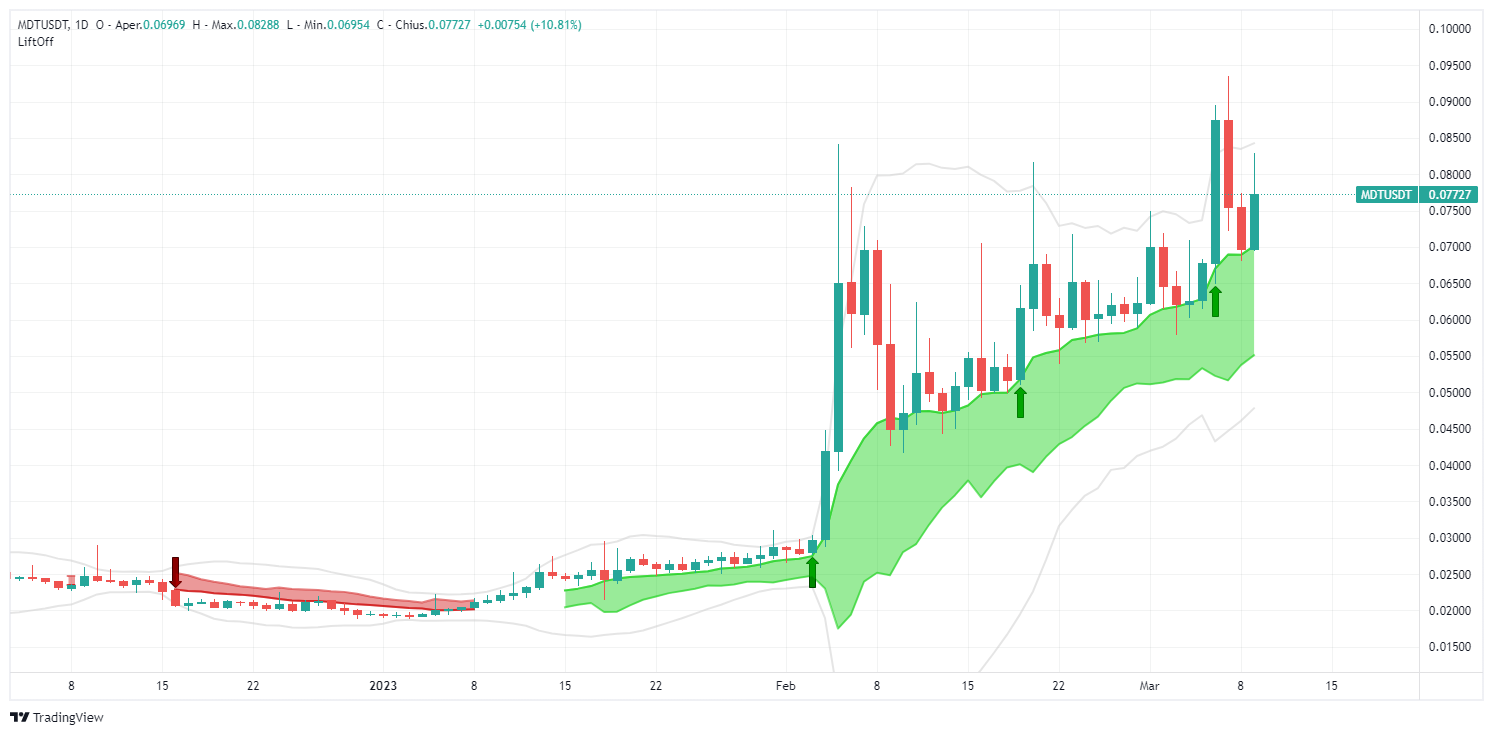 Project
Minted.network is a decentralized NFT platform that aspires to be everyone's digital wonder bazaar for discovering, trading, and finding native Ethereum and Cronos NFT jewels. The goal is to provide more tools for collection owners to design, curate and offer utility to their communities, all without the technical complexities that plague many would-be collection owners.
Minted™ provides these key features: 1. Self-custodial trading - users retain full control of their NFTs. 2. Multi-chain support - supports both Ethereum and Cronos. 3. Native $MTD token - $MTD is Minted™'s native token on Cronos designed to incentivize long-term supporters of the platform. 4. Security First - Minted™ smart contracts are fully audited by Blocksec.

Source: coinmarketcap.com
March 9, 2023 signal board
LONG - MINTED - MTDUSDT
Input price: 0.07727 USDT (or any price if not too far away)
CAUTION: keep the risk low because crypto is poorly capitalized and also the market at the moment has continuous bullish and bearish movements.
Important:
We would like to remind you that the chosen signal has been identified from those detected by the Lift-Off indicator, which you can view in the "Signals" section of our website. However, we will NOT provide any guidance on how to handle the trade.
We recommend that you handle the trades as shown during our professional courses on using the platform, available at the following link: https://it.largetrader.com/eventi