SIGN UP NOW FOR FREE


Discover Forex, Stocks and Crypto trading signals with 79% to 89% accuracy
If you want to receive trading signals - like these in real time - register on the platform and buy the Pro version of LargeTrader.
Ontology trading signal - ONTUSDT
Altcoin price signals and analysis
Good evening Traders,
Today, April 16, Lift-Off confirms a LONG trading signal on the crypto Ontology (ONTUSDT).
The current price of ONTUSDT is 0.3112 USDT at the moment there is a +18.15%
Ontologyis currently ranked 140th in the capitalization ranking.
Below is the chart of ONTUSDT with the signal detected by Lift-Off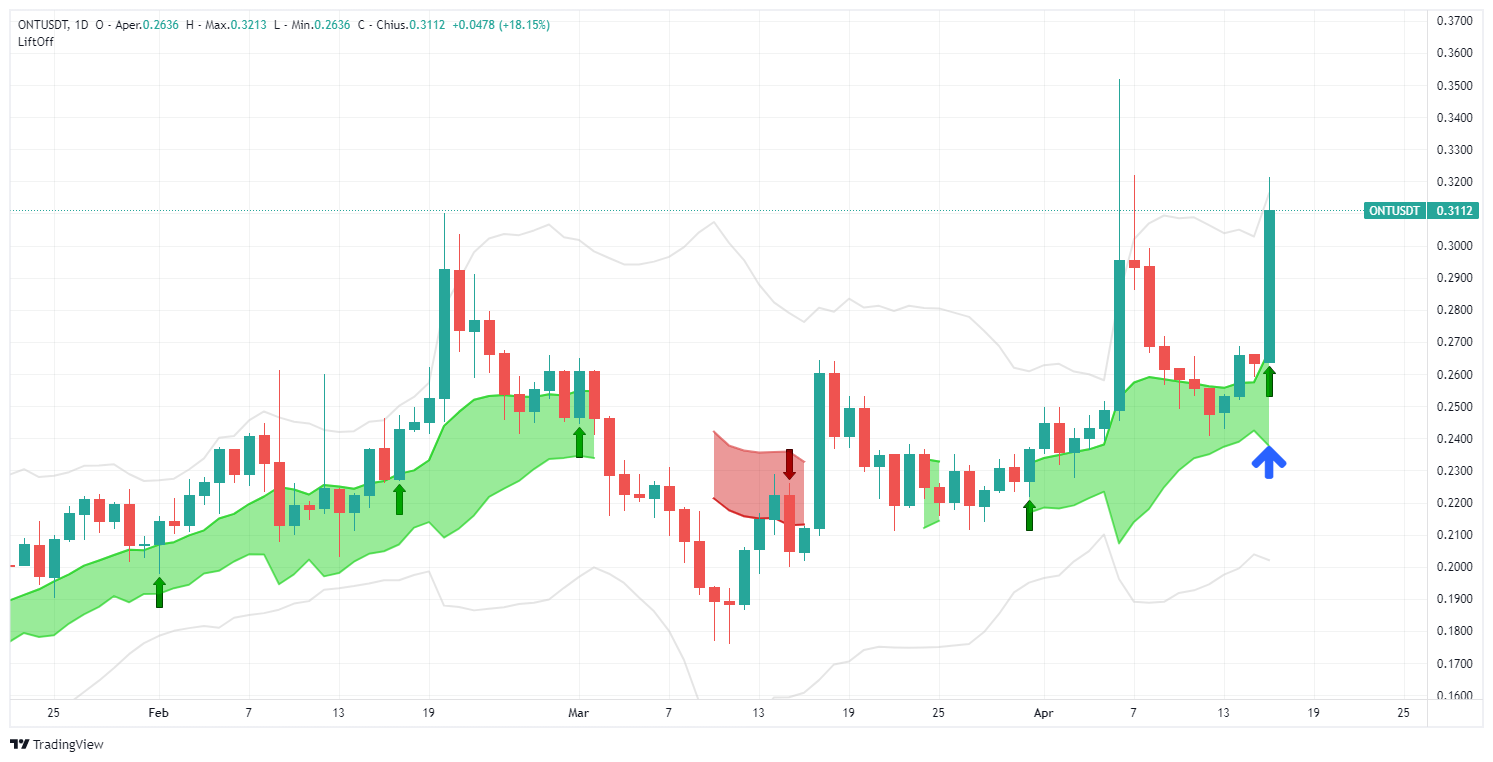 Project
Ontology is a complex distributed trust network that serves a wide range of enterprises and projects, enabling their authorized enterprise blockchains to operate on Ontology's public blockchain network, interacting as they see fit, without compromising private data.
At its launch, Ontology chose to forgo the popular initial coin offering (ICO) model in favor of a series of community distributions and airdrops of its ONT cryptocurrency, which began as a NEP-5 token on the NEO blockchain.
This helped quickly establish both price discovery and a passionate community and helped the project avoid subsequent regulatory scrutiny.
For example, for a brief period any person who signed up for Ontology's newsletter received an airdrop of 1.000 free ONTs, which reached a value of $10 per token soon after it was listed on major exchange markets such as Binance.
Ontology launched its mainnet in July 2018 and now operates independently of the NEO blockchain.

Source: coinmarketcap.com
Signal board April 16, 2023
LONG - Ontology - ONTUSDT
Input price: 0.3112 USDT (or any price if not too far away)
Important:
We would like to remind you that the chosen signal was identified from those detected by the Lift-Off indicator, which you can view in the "Signals" section of our website. However, we will NOT provide any guidance on how to handle the trade.
We recommend that you handle the trades as shown during our professional courses on using the platform, available at the following link: https://it.largetrader.com/eventi