SIGN UP NOW FOR FREE


Discover Forex, Stocks and Crypto trading signals with 79% to 89% accuracy
If you want to receive trading signals - like these in real time - register on the platform and buy the Pro version of LargeTrader.
Otis Worldwide Corp - OTIS trading signal
US Stock Price Signals and Analysis
With the close on April 27, Lift-Off confirms a LONG trading signal on the US stock Otis Worldwide Corp (Ticker: OTIS) listed on the NYSE being part of the S&P500 index.
Today, May 16, we waited for a return and holding of the Lift-Off band to propose a long entry to reduce the stop loss space and have a higher risk return to the highs.
The stock closed at USD 84.52 per share
Below the chart of Otis Worldwide Corp - OTIS - with the signal detected by Lift-Off.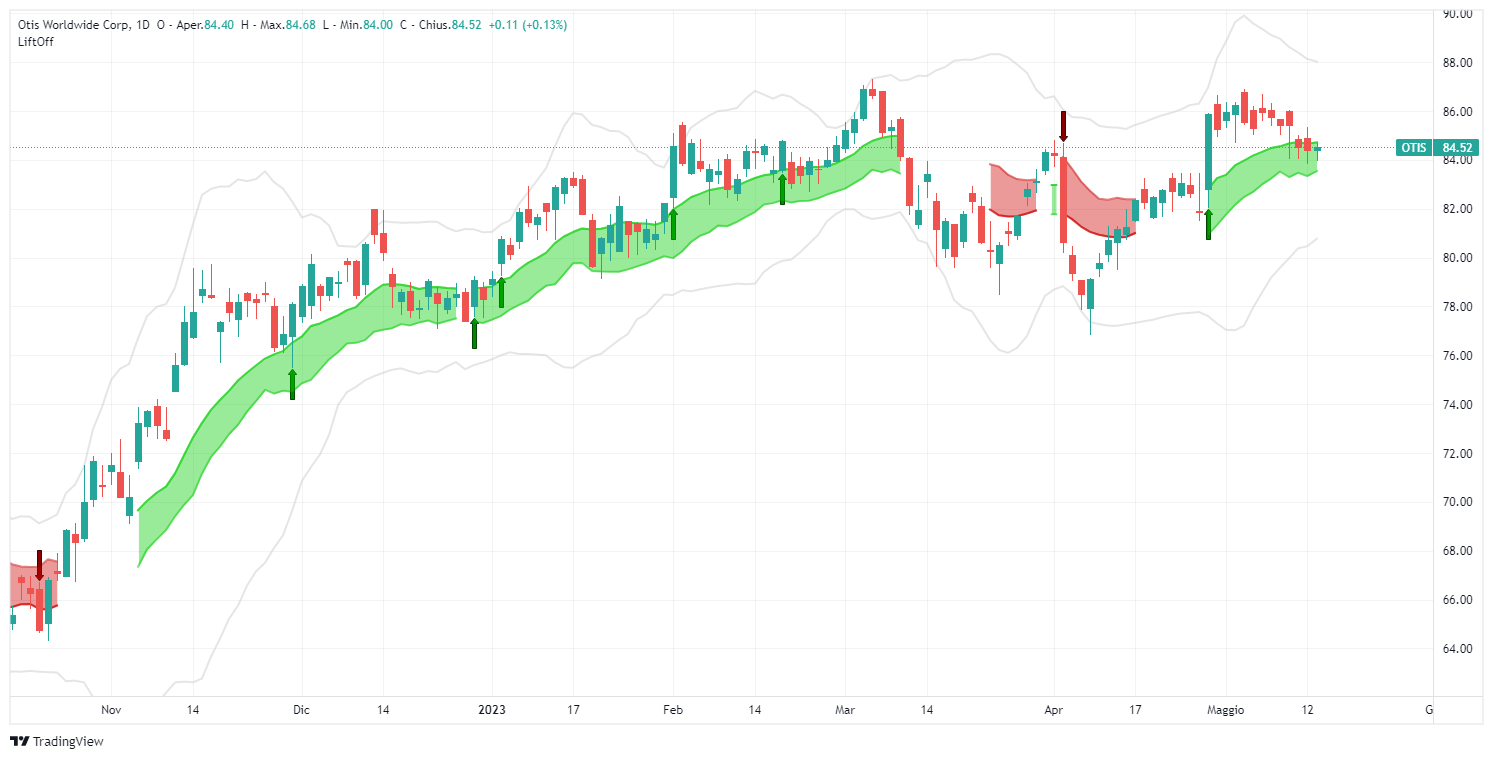 The company is active in the "Manufacturing Supply Chain"" and "Construction Products" industry
Profile
Otis Worldwide Corp (OTIS) is a leading global vertical mobility company. Founded in 1853, it specializes in the design, manufacture, installation, maintenance, and modernization of elevators, escalators, and horizontal movement systems. Otis provides safe, reliable and efficient vertical transportation solutions for a wide range of buildings, including residential, commercial and public infrastructure. The company is committed to technological innovation and the provision of maintenance and support services to ensure the optimal operation of its products. Otis has been a division of United Technologies Corporation (UTC) before becoming a separately listed independent company in 2020.
Next earnings announcement for Q2 2023: July 25July 2023
Q1 2023 Results
EPS: Reported 0.80 / Expected 0.76 / Previous 0.75
Earnings: Reported 3.35B / Expected 3.27B / previous 3.36B
Financial Overview: OTIS's current market capitalization amounts to 34,927B USD. The company's EPS TTM is 3.05 USD, PE amounts to 27.88
Accounts, including revenue, expenses, profit and loss: OTIS's total revenue for the latest quarter is 3.35B USD, down 2.70% from the previous quarter. Net income in Q1 23 is $331.00M USD. net income in Q1 23 is $147.00M USD.
Overview data and accounts source: Tradingview.com
May 16, 2023
LONG - Otis Worldwide Corp - OTIS
Input price: 84.52 USD (and any opening price)
Important:
We would like to remind you that the signal chosen was identified from those detected by the Lift-Off indicator, which you can view in the "Signals" section of our website. However, we will NOT provide any guidance on how to handle the trade.
We recommend that you handle the trades as shown during our professional courses on using the platform, available at the following link: https://it.largetrader.com/eventi