SIGN UP NOW FOR FREE


Discover Forex, Stocks and Crypto trading signals with 79% to 89% accuracy
If you want to receive trading signals - like these in real time - register on the platform and buy the Pro version of LargeTrader.
SafePal trading signal - SFPUSDT
Altcoin Price Signals and Analysis
Good Evening Traders,
Almost at the close of January 11, a Lift-Off, SHORT trading signal is forming on the altcoin SafePal (SFPUSDT)
SFP against USDT at this time is 0.3926 USDT, marking a -6.57%.
It is currently 156th in the classic by capitalization.
The signal comes on with a candle with volatility that incorporates the previous two days, and it is the day with the highest volatility in recent weeks, which allows the Lift-Off band to turn red again.
Below SafePal chart with the signal detected by Lift-Off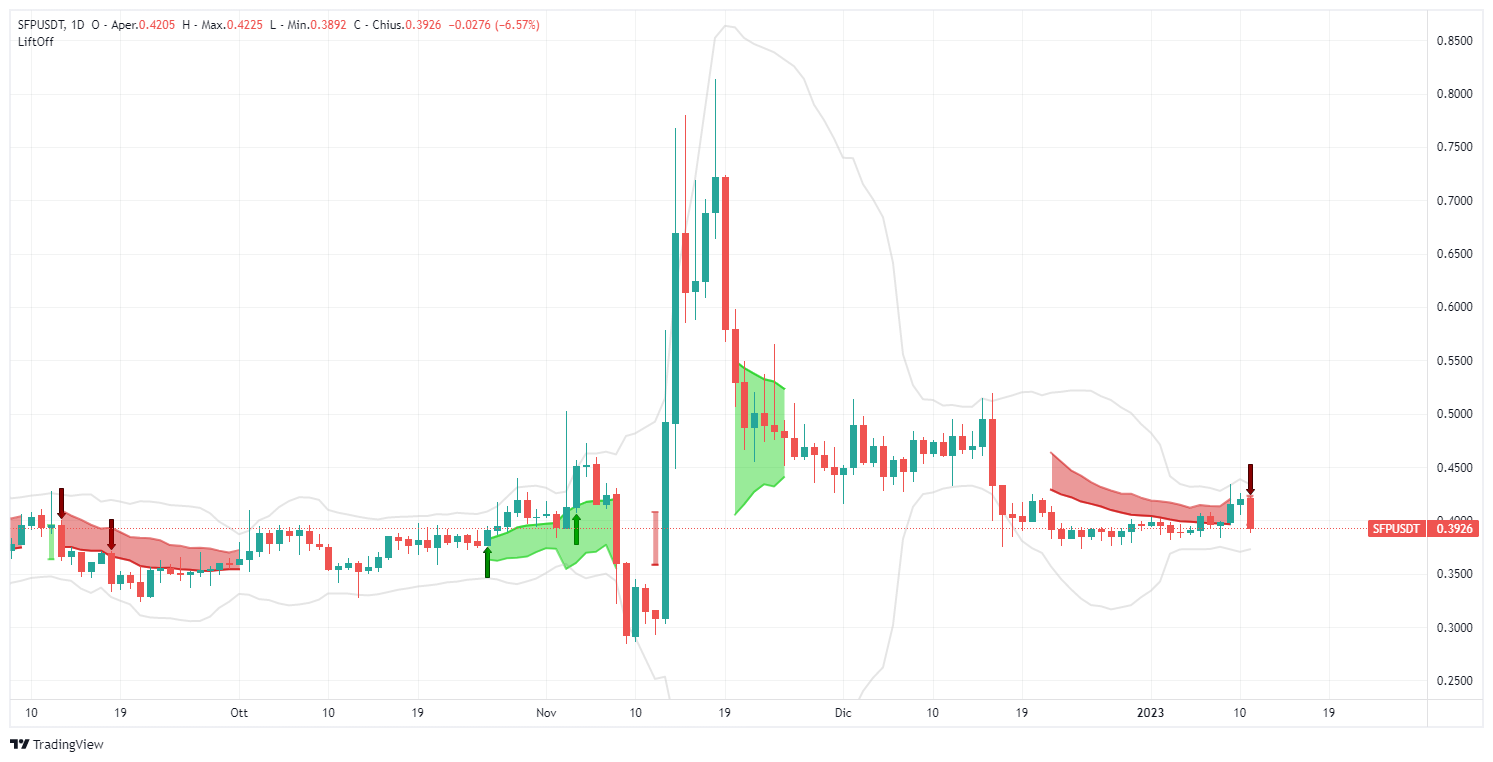 Two words about the SafePal project:
[...]SafePal is a cryptocurrency wallet launched in 2018 that helps users protect and grow their digital assets. SafePal provides hardware and software wallets, all paired and managed through the SafePal app and was the first hardware wallet invested in and supported by Binance. The SafePal wallet supports many popular crypto-assets, as well as popular tokens on Ethereum, Binance Smart Chain (BSC), and TRON blockchain. Users can store, manage, trade, exchange and grow their wallets without compromising asset security, according to SafePal. Since its launch in 2018, SafePal has grown exponentially and has more than 3,000,000 users in 196 countries worldwide. More information is available on SafePal's official website.[...]
Source: coinmarketcap.com
Signal board of January 12, 2023
SHORT- SAFEPAL- SFPUSDT
Input price: 0.3909 USDT (or any price if not too far away)
Important:
Please note that the chosen signal has been identified from those detected by the Lift-Off indicator, which you can view in the "Signals" section of our website. However, we will NOT provide any guidance on how to handle the trade.
We recommend that you handle the trades as shown during our professional courses on using the platform, available at the following link: https://it.largetrader.com/eventi