SIGN UP NOW FOR FREE


Discover Forex, Stocks and Crypto trading signals with 79% to 89% accuracy
If you want to receive trading signals - like these in real time - register on the platform and buy the Pro version of LargeTrader.
SHORT EOSUSDT trading signal
Altcoin price signals and analysis
Good morning Traders,
Today, September 22, Lift-Off offers us a SHORT trading signal on the altcoin EOS, a signal that was formed on the September 21 candle.
EOS against USDT closed the day yesterday by marking -11.80% at USDT 1.18.
EOS is currently ranked 44th in the classic by capitalization
Below the chart of EOS with the signal detected by Lift-Off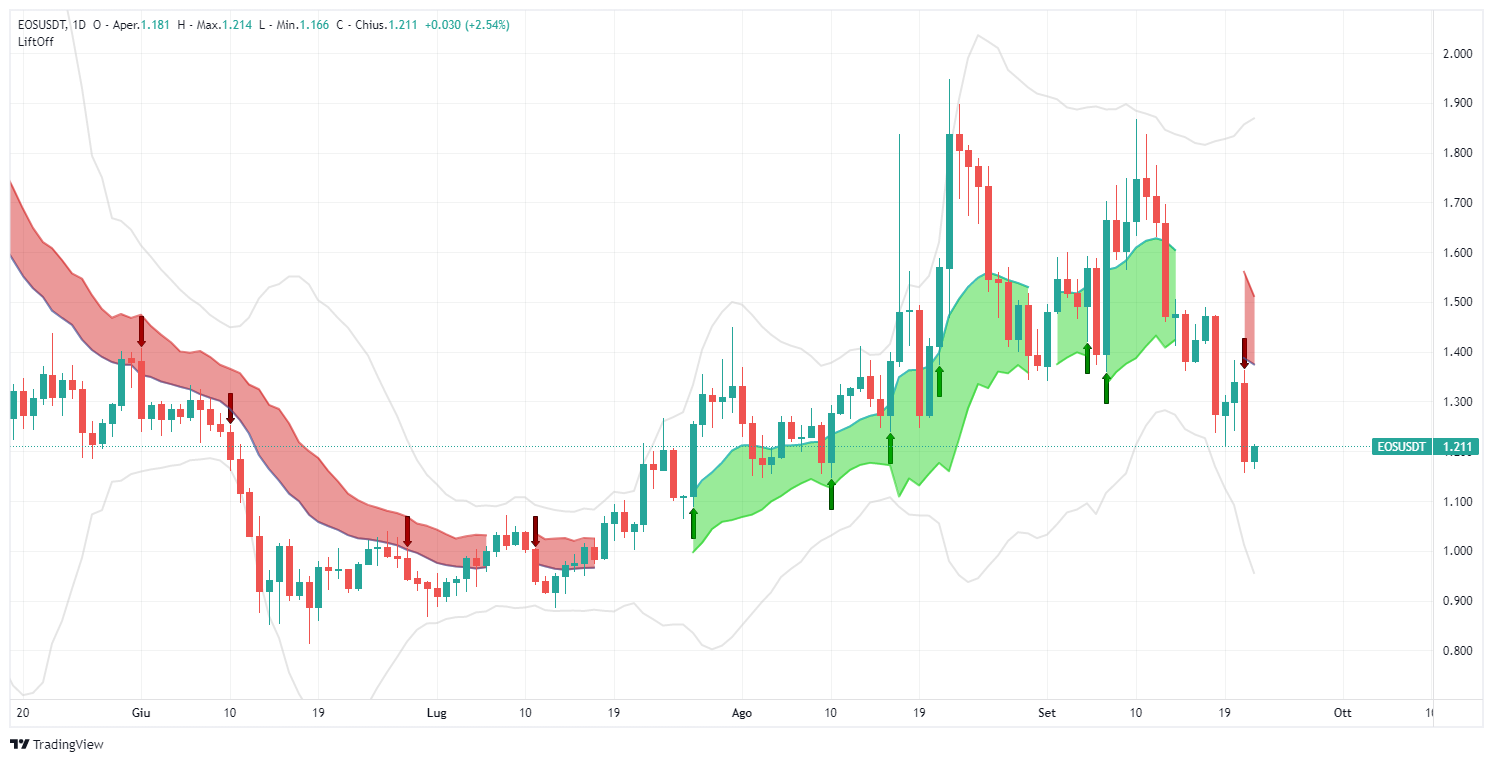 Two words about the EOS project:
[...]EOS is a platform designed to enable developers to create decentralized apps (otherwise known as DApps for short).
The goal of the project is relatively simple: to make blockchain technology as easy as possible for programmers and to ensure that the network is easier to use than its competitors. As a result, tools and a range of educational resources are provided to support developers who want to quickly create functional apps.
Other priorities include higher levels of scalability than other blockchains, some of which can only handle less than a dozen transactions per second.
EOS also aims to improve the experience for users and businesses. While the project seeks to offer more security and fewer obstacles for consumers, it also seeks to unlock flexibility and compliance for businesses.
The blockchain was launched in June 2018... [...]

Source: coinmarketcap.com
Signal board of September 22, 2022
SHORT- EOSUSDT
Input price: 1.21 USDT
Stop loss or adjustment zone: 1.50 USD
Take profit zone: 0.92
.