SIGN UP NOW FOR FREE


Discover Forex, Stocks and Crypto trading signals with 79% to 89% accuracy
If you want to receive trading signals - like these in real time - register on the platform and buy the Pro version of LargeTrader.
Sonder Holdings Inc - SOND trading signal
US Stock Price Signals and Analysis
Good Morning Traders,
With the close of December 27, Lift-Off offers a SHORT trading signal on the US stock Sonder Holdings Inc (Ticker: SOND) listed on NASDAQ and part of the RUSSELL 2000 Index.
The stock closed at US$1.22 per share, marking -12.23 percent.
Below chart of Sonder Holdings Inc - SOND- with the signal detected by Lift-Off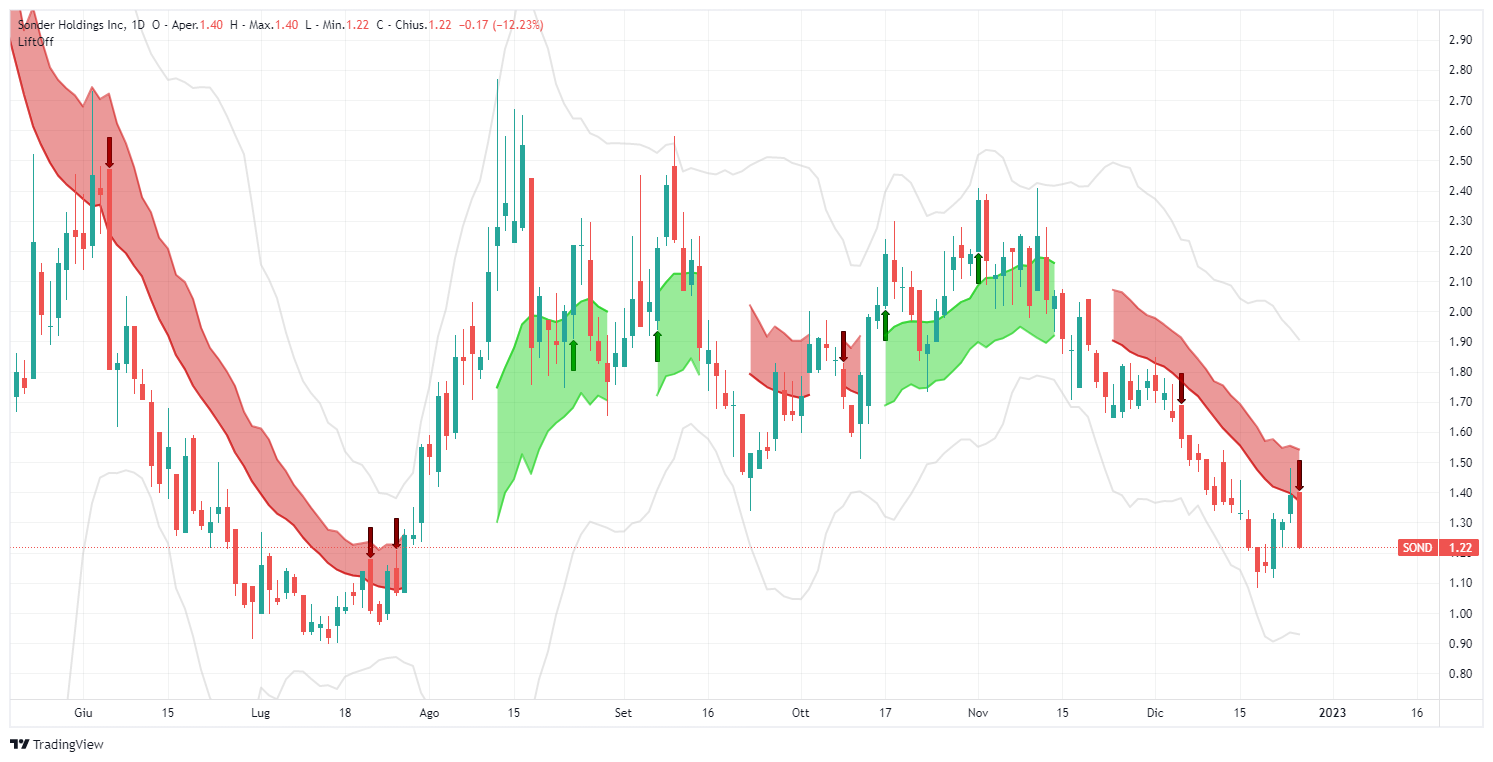 The company operates in the "Consumer Services" industry specifically in the "Other Consumer Services Industry"
Next earnings announcement for Q4 2022: March 8, 2023
Q3 2022 Results
EPS: Reported -0.35/ Expected -0.20/ Previous -0.15
Earnings: Reported 124.53M/ Expected 122.94M/ Previous 121.32M
Company Information
Sonder Holdings, Inc. provides hospitality services.
It manages and operates various accommodations suitable for one-night and extended stays and serves many use cases.
The company was founded by Francis Davidson-Tanguay and Martin Picard in 2012 and is headquartered in San Francisco, Calif.
Financial Overview:SOND's current market capitalization is $303.101M USD. The next earnings release date for Sonder Holdings Inc is March 8. The estimate is -0.18 USD.
Accounts, including revenue, expenses, profit and loss: SOND's total revenue for the latest quarter is 124.53M USD, up 2.64% from the previous quarter. Net income in Q3 22 is -74.50M USD
Overview data and accounts source: Tradingview.com
Signal board December 28, 2022
SHORT- Sonder Holdings Inc - SOND
Input price: 1.22 USD (and any opening price)