SIGN UP NOW FOR FREE


Discover Forex, Stocks and Crypto trading signals with 79% to 89% accuracy
If you want to receive trading signals - like these in real time - register on the platform and buy the Pro version of LargeTrader.
Tellurian Inc - TELL trading signal
U.S. stock price signals and analysis
Good morning Traders,
With the close of December 19, Lift-Off offers a SHORT trading signal on the U.S. stock Tellurian Inc (Ticker: TELL) listed on NYSE Arca and part of the Russell 2000 index., so it is a small-cap company.
The stock closed at US$1.80 per share, marking a -25.62 percent.
Below is the chart of Tellurian Inc - TELL - with the signal detected by Lift-Off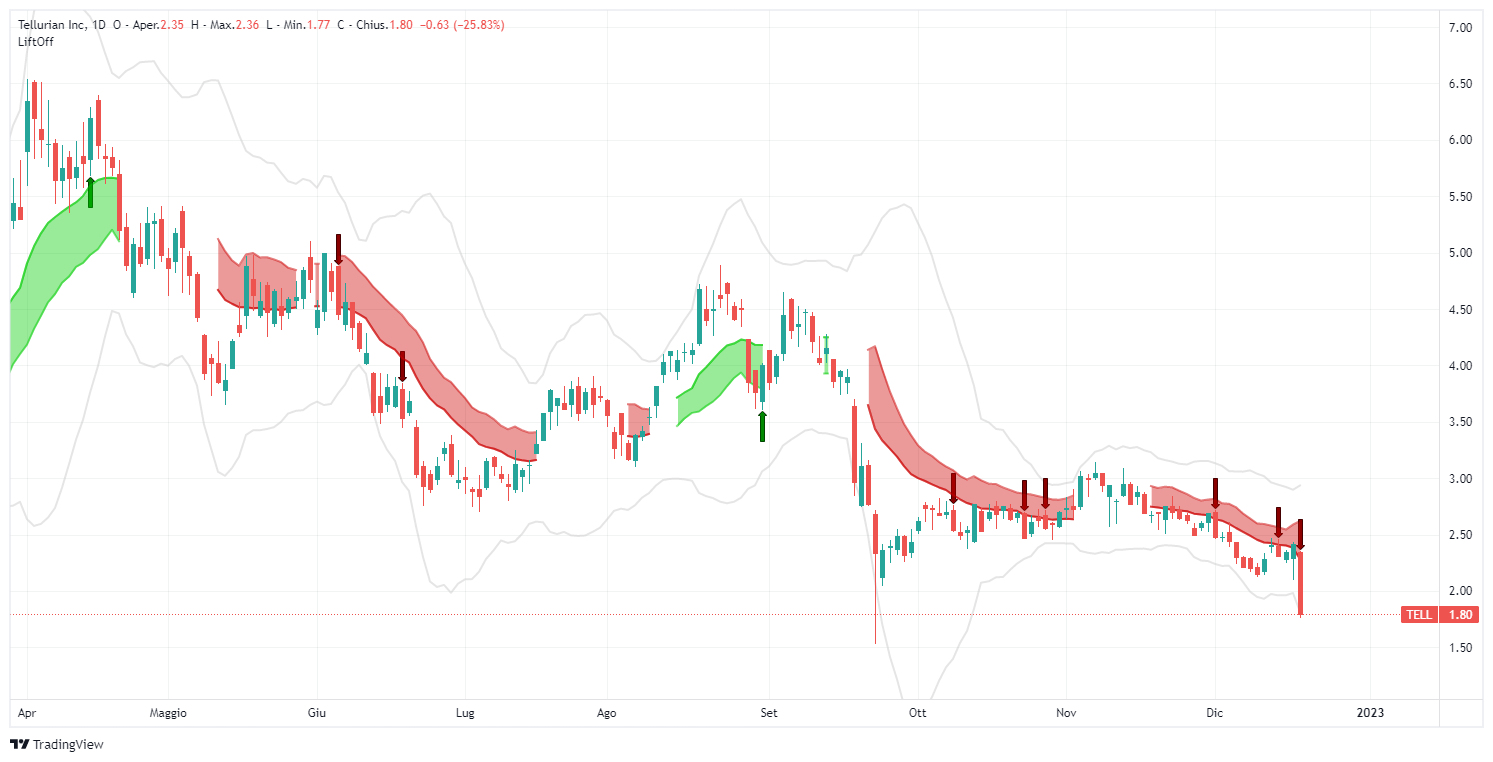 The company is engaged in the "Energy Minerals" industry particularly in the "Integrated Oil Industry"
Next earnings report for Q4 2022:February 22, 2023
Q3 2022 earnings
EPS: Reported -0.03/ Forecasted 0.05/ Previous 0.00
Turnover: Reported 81.10M/ Forecasted 85.62M/ Previous 61.30M
Financial Overview: TELL's current market capitalization amounts to 1.367B USD. Tellurian Inc's next earnings release date is Feb. 22. The estimate is -0.00 USD.
Accounts, including revenue, expenses, profit and loss:TELL's total revenue for the latest quarter is 81.10M USD, up 32.20% from the previous quarter. Net income in Q3 22 is -14.23M USD.
Overview data and accounts source: Tradingview.com
Signal Chart Dec. 20, 2022
SHORT- Tellurian Inc - TELL
Entry Price: USD 1.80 (and any opening price)
Be careful to keep the risk low as this is a low-capitalization company, this makes it highly volatile.