SIGN UP NOW FOR FREE


Discover Forex, Stocks and Crypto trading signals with 79% to 89% accuracy
If you want to receive trading signals - like these in real time - register on the platform and buy the Pro version of LargeTrader.
Trading signal Industrial Logistics Properties Trust - ILPT
US Stock Price Signals and Analysis
Good Morning Traders,
With the close of June 26, Lift-Off confirms a LONG trading signal on the US stock Industrial Logistics Properties Trust (Ticker: ILPT) listed on the NASDAQ and part of the RUSSELL 2000 Index (RUT)
The stock closed at USD 3.50 per share, marking a +22.38%.
Below the chart of Industrial Logistics Properties Trust - ILPT - with the signal detected by Lift-Off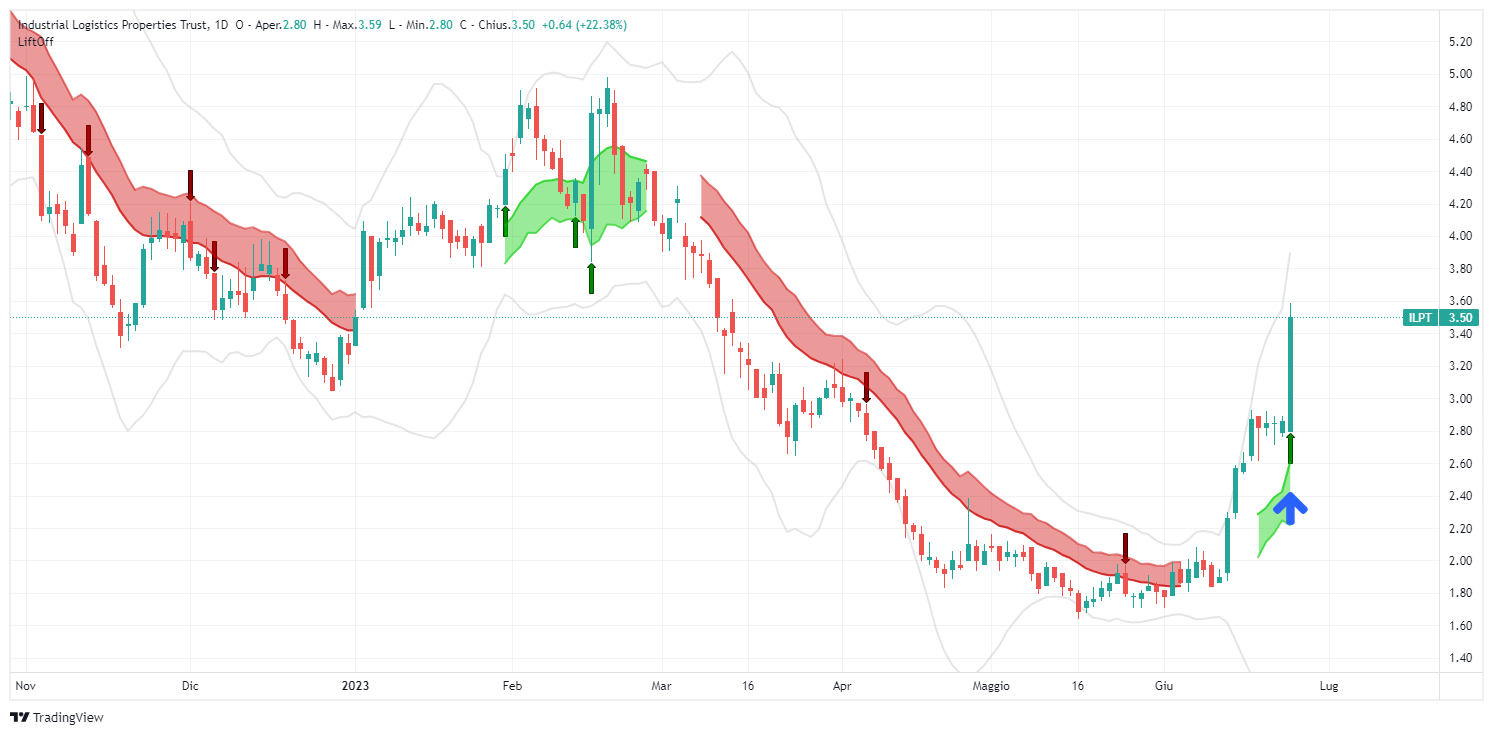 The company is active in the field of "Finance" specifically in the Industry of "Real Estate Investment Companies"
Profile
Industrial Logistics Properties Trust (ILPT) is a real estate investment company specializing in industrial and logistics real estate. The company owns and manages a wide range of industrial and logistics properties, including warehouses, distribution centers, storage facilities, and supply chain-related infrastructure.
ILPT provides space and services to meet the needs of companies and logistics operators operating in various sectors, such as retail, manufacturing, logistics, and distribution. Its properties are strategically located in several key geographic areas, allowing easy and convenient access to markets and transportation networks.
The company is committed to providing high-quality real estate solutions and adapting to the changing needs of the industry. ILPT works in partnership with its tenants to ensure functional, safe, and efficient spaces that support their business operations.
With experienced management and a solid understanding of industrial real estate, ILPT aims to create value for investors through the acquisition, development, and management of high-quality real estate properties. The company focuses on obtaining stable and consistent returns from its real estate investments in order to provide a reliable and lasting revenue stream for its shareholders.
All in all, ILPT positions itself as a company specializing in industrial and logistics real estate, offering flexible solutions and space to support its clients' business activities and generate long-term value for investors.
Next earnings announcement for Q2 2023:July 27, 2023
Q1 2023 Results
EPS: Reported -0.38 / Expected - / Previous -0.48
Earnings: Reported 110.26M / Forecast 106.64M / previous 106.34M
Financial Overview: ILPT's current market capitalization is USD 229,481M.
Accounts, including revenue, expenses, profit and loss: ILPT's total revenue for the latest quarter is 110.26M USD, up 3.69% from the previous quarter. Net income in Q1 23 is -24.81M USD.
Earnings and Revenues:The company's revenue for the same period is 110.26M USD despite the estimated figure of 106.64M USD. Also look at the annual changes over time to get a broader picture of ILPT's earnings and revenue dynamics.
Source data overview and accounts: Tradingview.com
Signal Chart June 27, 2023
LONG - Industrial Logistics Properties Trust - ILPT
Input Price: USD 3.50 (and any price)
WARNING TO NEAR EARLY EARNINGS
Important:
Please note that the signal chosen was identified from those detected by the Lift-Off indicator, which you can view in the "Signals" section of our website. However, we will NOT provide any guidance on how to handle the trade.
We recommend that you handle the trades as shown during our professional courses on using the platform, available at the following link: https://it.largetrader.com/eventi