SIGN UP NOW FOR FREE


Discover Forex, Stocks and Crypto trading signals with 79% to 89% accuracy
If you want to receive trading signals - like these in real time - register on the platform and buy the Pro version of LargeTrader.
Trading signal The Mosaic Co - MOS
US stock price signals and analysis
Good morning Traders,
With the close of December 14, Lift-Off proposes a SHORT trading signal on the US stock The Mosaic Co (Ticker: MOS) listed on the NYSE and part of the S&P500 index.
The stock closed at USD 45.41 per share, marking a -3.44%.
After the CPI data and after Powell's words, the market closed lower, continuing in its trend and confirming previous bearish signals exiting the trading range, closing below the "base" of the congestion.
Below chart of The Mosaic Co - MOS - with the signal detected by Lift-Off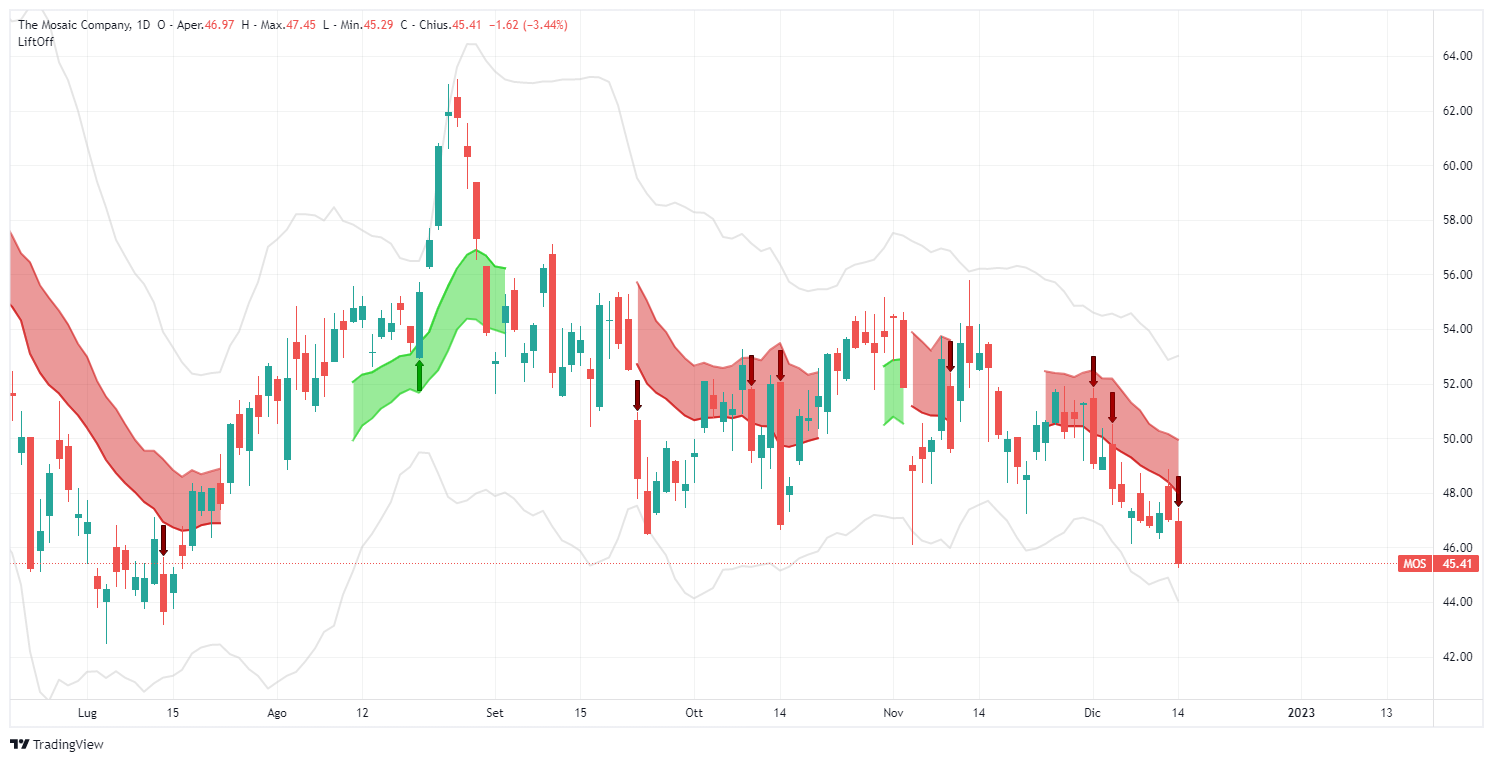 The company is operating in the "processing industries" sector especially in the Industry of "Chemical: Agriculture"
Next earnings announcement for Q4 2022:February 21, 2023
Q3 2022 earnings
EPS: Reported 3.22/ Expected 3.34/ Previous 3.64
Turnover: Reported 5.35B/ Expected 5.82B/ previous 5.37B
Company Information
The Mosaic Co. engages in the production and marketing of phosphate and potassium concentrated crop nutrients.
The company operates its businesses through its wholly owned and majority-owned subsidiaries. The Phosphates segment owns and operates mines and production facilities in North America that produce phosphate and concentrated crop nutrients and phosphate-based feed ingredients. The Potash segment owns and operates potash mines and production facilities in North America that produce potash-based crop nutrients, animal feed ingredients, and industrial products. The Mosaic Fertilizantes segment produces and sells phosphate and potassium-based crop nutrients and animal feed ingredients in Brazil.
The company was founded on October 22, 2004 and is based in Plymouth, MN. 23 54 Search Products Community Markets News Broker Other Subscribers
Financial Overview: MOS's current market capitalization is US$16,013B. The company's TTM EPS is 10.33 USD, dividend yield is 1.28% and PE is 4.60. The next earnings release date for Mosaic Company (The) is Feb. 21. The estimate is USD 2.67.
Accounts, including revenue, expenses, profit and loss: MOS' total revenue for the latest quarter is USD 5.35B, down 0.46% from the previous quarter. Net income in Q3 22 is 841.70M USD.
Overview data and accounts source: Tradingview.com
Signal board December 15, 2022
SHORT -The Mosaic Co - MOS
Input price: 45.41 USD (and any opening price)