SIGN UP NOW FOR FREE


Discover Forex, Stocks and Crypto trading signals with 79% to 89% accuracy
If you want to receive trading signals - like these in real time - register on the platform and buy the Pro version of LargeTrader.
UNFI Protocol DAO trading signal - UNFIUSDT
Altcoin Price Signals and Analysis
Good Morning Traders,
The closing candle of December 28, confirms a Lift-Off, SHORT trading signal on the altcoin UNFI Protocol DAO (UNFIUSDT)
Unifi Protocol DAO against USDT closed at USDT 3.574, marking -11.36%.
It is currently ranked 553rd in the classic by capitalization.
The signal forms at the last low after the FTX collapse, so the price may have resistance.
Under the UNFI Protocol DAO chart with the signal detected by Lift-Off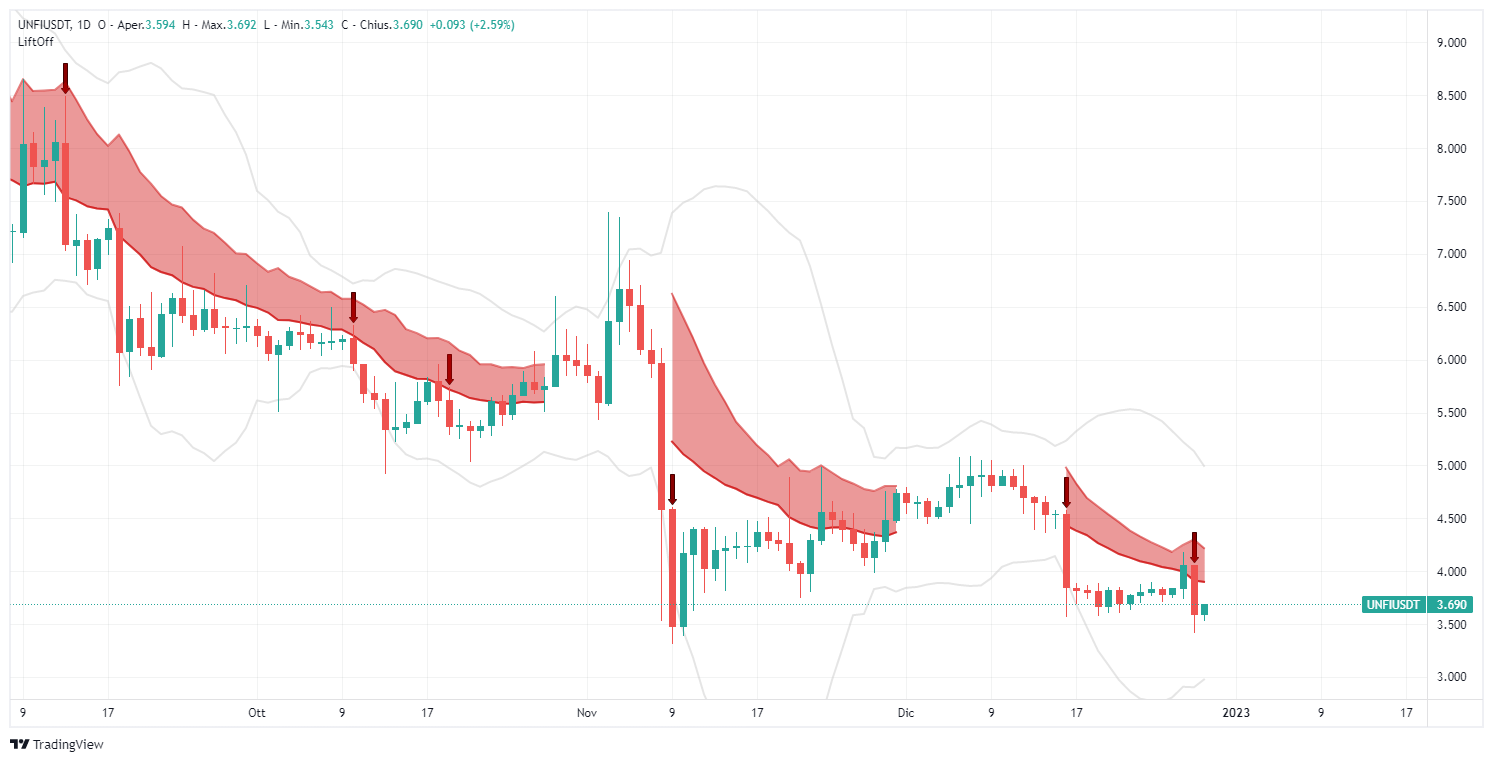 Two words about the UNFI Protocol DAO project:
[...]Unifi Protocol is a revolutionary approach to the blockchain economy. The concept is simple: the network will use a stablecoin as a token gas to remove transaction volatility and inflation. The project aims to create the next class of blockchain, built on the principle of economic sustainability. Build a blockchain, not another cryptocurrency. Unifi Protocol DAO has a mission to make blockchain a solution for modern finance by building a sustainable blockchain economy predictable enough to run a business. Unifi Protocol DAO has been retooling the blockchain economy with its innovative solutions since 2018. These include products such as a wrapperless cross-chain bridge (uBridge), a multi-chain AMM (uTrade) complete with advanced DeFi arbitrage strategies (DARBi), and a fully collateralized token integrated across the ecosystem ($UP). UNFI is the governance token for Unifi Protocol DAO. UNFI holders have the exclusive right to propose and participate in referenda[...]
Source: coinmarketcap.com

Signal board of December 29, 2022
SHORT- UNFI PROTOCOL DAO - UNFIUSDT
Input price: 3.69 USDT (or any price if not too far away even lower)
Important:
Remind that the signal has been chosen from those detected by the Lift-Off indicator, visible in the signals area, but the management of the trade will NOT be notified.
We recommend managing the operations as shown during the professional courses on using the platform available at this link https://it.largetrader.com/eventi