SIGN UP NOW FOR FREE


Discover Forex, Stocks and Crypto trading signals with 79% to 89% accuracy
If you want to receive trading signals - like these in real time - register on the platform and buy the Pro version of LargeTrader.
UNISWAP trading signal - UNIUSDT
Altcoin Price Signals and Analysis
Good Morning Traders,
Lift-Off with the close of March 24 confirms a SHORT signal on the altcoin UNISWAP (UNIUSDT)
UNISWAP against USDT closed at $5.851 per share, marking a -5.71%.
Uniswap has been moving in a trading range for several weeks, one can try to get to the lower volatility deviation on this first signal after the Lift-Off band turned red again.
The predecessor signal we see on the chart did not lead to a descent, but the price failed to reverse decisively, given also the shift of capital to Bitcoin.
It is currently ranked 24th in the classic by capitalization.
Below is the chart of UNIUSDT with the signal detected by Lift-Off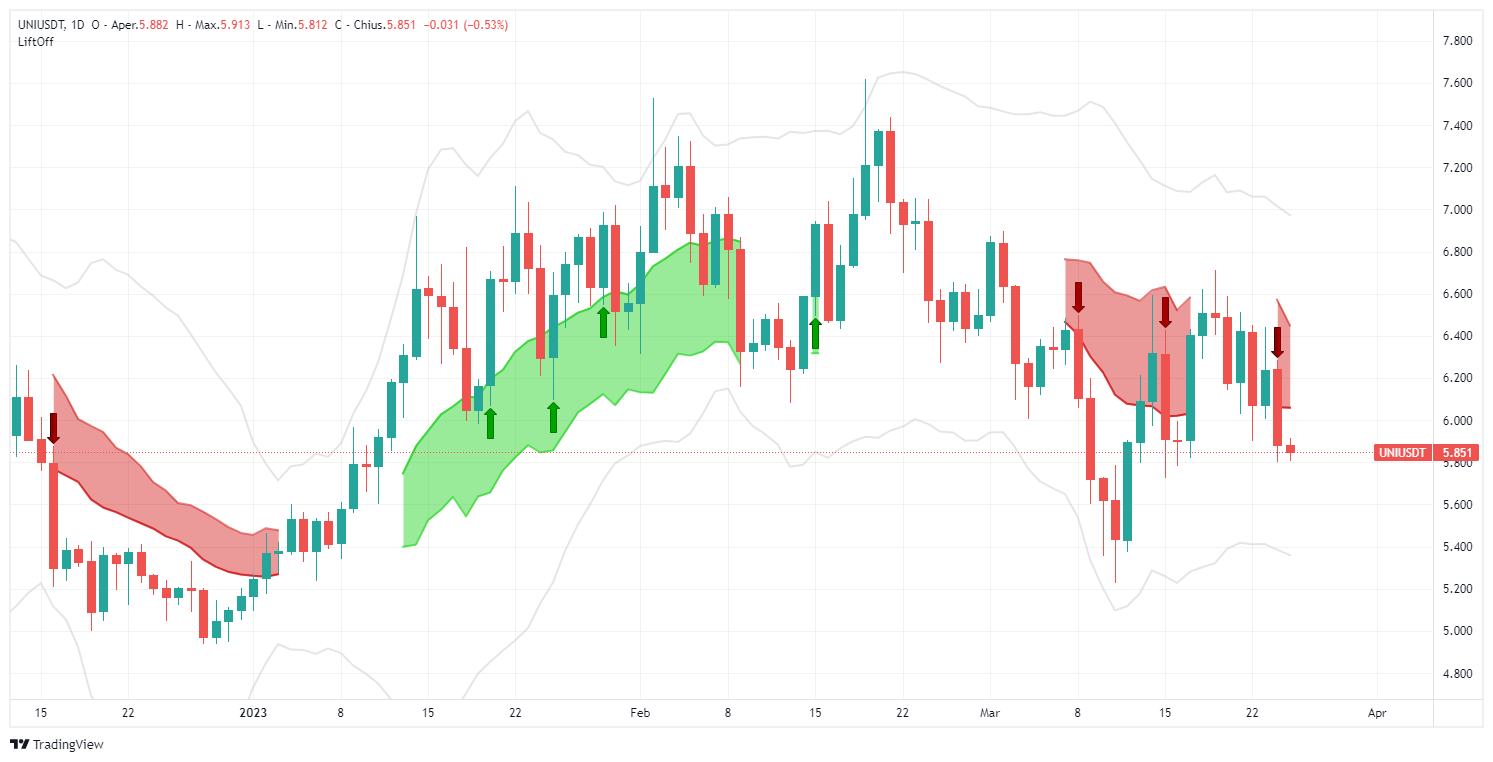 Two words about the Uniswap project:
[...]Uniswap is a popular decentralized trading protocol, known for its role in facilitating automated trading of decentralized finance tokens (DeFi).
An example of an automated market maker (AMM), Uniswap was launched in November 2018, but has gained significant popularity this year due to the DeFi phenomenon and the resulting increase in token trading.
Uniswap aims to keep token trading automated and completely open to anyone who holds tokens, while improving trading efficiency compared to that on traditional exchanges.
Uniswap creates greater efficiency by solving liquidity problems with automated solutions, avoiding the problems that plagued early decentralized exchanges.
In September 2020, Uniswap took a further step by creating and assigning its own governance token, UNI, to previous users of the protocol. This added both the potential for profitability and the ability for users to shape their own futures, an attractive aspect of decentralized entities.[...]
Source: coinmarketcap.com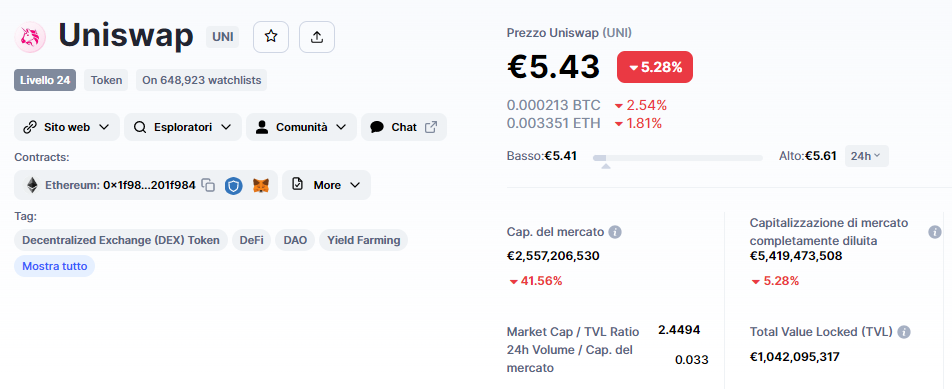 Signal board of March 25, 2023
SHORT - UNISWAP - UNIUSDT
Input price: 5.85 USDT (or any price if not too far away)
Important:
Please note that the signal chosen was identified from those detected by the Lift-Off indicator, which you can view in the "Signals" section of our website. However, we will NOT provide any guidance on how to handle the trade.
We recommend that you handle the trades as shown during our professional courses on using the platform, available at the following link: https://it.largetrader.com/eventi